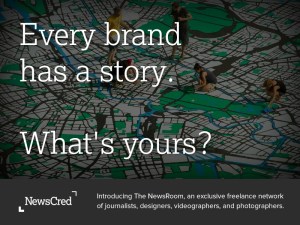 Since 2008, content marketplace NewsCred has been connecting high-profile brands with licensed content from top news organizations.
On Thursday, the site took its journalistic vision one step further by launching The NewsRoom: a network of freelance journalists who'll create original content for NewsCred's clients.
"It's a reinvented newswire for the digital age," NewsCred marketing director Alicianne Rand told The Observer.
But before we could wrap our heads around The NewsRoom, we first needed a little clarification from Ms. Rand about how NewsCred, as a whole, actually works.
Ms. Rand directed us to Pepsi's Live for Now campaign: a section of the company's website that features articles and videos about the latest in music and entertainment.
Instead of the soda brand employing its own team of journalists, Pepsi looks to NewsCred to get its hands on content. NewsCred, meanwhile, forges partnerships with publications like The Times, Getty Images, and Reuters, and legally licenses its content out to brands like Pepsi for ad campaigns.
"A lot of major brands want original content" Ms. Rand said.
And that's where The NewsRoom comes in. The NewsRoom will be a team of 500 freelancers creating original multimedia content for NewsCred's clients. And believe it or not, they'll be making a whopping $400-$500 per blog post, and $1000 per article—making The NewsRoom the self-proclaimed "highest paying freelance network."
"At NewsCred, we're committed to helping the journalism industry not just survive, but truly thrive. With The NewsRoom, freelance writers receive 100% of fees for the creation of each article. We're proud to be the highest paying freelance network, proving our commitment to the growth and sustainability of journalism," said NewsCred CEO and cofounder Shafqat Islam.
Sure, creating blog posts for Proctor & Gamble or General Electric may not meet the lofty dreams of most fresh-out-of-J-school writers, but the move to branded content has proven to be a growing trend in our rapidly evolving journalism landscape.
And besides, a thousand bucks for an article is pretty lucrative.
"It's really exclusive," Ms. Rand said. "We have hundreds and hundreds of freelancers who are interested and are going through the screening process, to make sure we have the highest quality journalism."