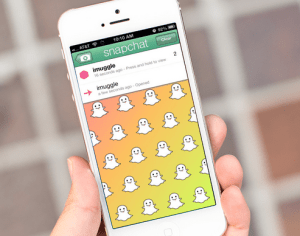 No matter how ephemeral your messages are, there's one question Snapchat can't shake: Who can see your snaps? So, hoping to evaporate that question from the nation's consciousness, the app's head of trust and safety, Micah Shaffer, reiterated that opened snaps are immediately zapped from its servers. But he did admit that unopened messages can not only be viewed, but can be turned over to law enforcement.
Much of the post reiterated what we've known for a while. Users' snaps are housed on a Google-hosted cloud called App Engine, When viewed, they disappear faster than Lindsay Lohan's singing career. But unopened snaps can be fetched by the company, if needed.
Mr. Schaffer said the company doesn't look at snaps under whatever he means by "ordinary circumstances" (around 350 million snaps are sent a day, so we like to think they have better things to do), and 24-hour long lasting Snapchat Stories can be viewed at any moment during that time frame.
He clarified what snaps can be opened:
If we receive a search warrant from law enforcement for the contents of snaps and those snaps are still on our servers, a federal law called the Electronic Communications Privacy Act (ECPA) obliges us to produce the snaps to the requesting law enforcement agency.
Mr. Schaffer notes that "about a dozen" of those snaps have been requested via warrants since May 2013. And he, along with cofounder Bobby Murphy, are supposedly the only two who can see your unopened snaps. But we've been telling you since August that there are third-party apps to retrieve snaps before you open them in Snapchat.
So if you're planning to chronicle that bank heist on Snapchat, now might be a good time to consider a switch to iMessage.