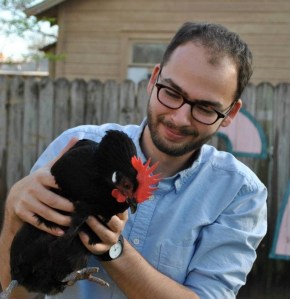 Popular Science associate editor Dan Nosowitz is going to The Dodo, the animal-themed startup website backed by BuzzFeed chairman and Huffington Post co-founder Ken Lerer.
The Dodo, which will be run along with Mr. Lerer's daughter Isabel and former Salon editor in chief Kerry Lauerman, was announced over the summer and is set to launch soon.
"As soon as we started planning The Dodo, Dan emerged as a perfect candidate for the founding team," Mr. Lauerman told The Observer. "He's smart, fast on his feet, and has a wonderfully keen eye for what's new and compelling."
The sentiment was mutual.
"I love the idea of The Dodo; there isn't really a site out there quite like it, which was really appealing, and Kerry and I really clicked on what we thought was the right way to approach animal coverage, from wild to domestic, controversial to cuddly, scientific to ethical," said Mr. Nosowitz, who is being brought in as a founding editor of the site.
Before Popular Science, where Mr. Nosowitz has been for three years, he was a writer at Fast Company and SmartPlanet and got his start at Gizmodo, Gawker Media's gadget blog. But although he continued to cover tech and gadgets while at PopSci.com, Mr. Nosowitz expanded his beat to include animals.
"I've been writing about animals for awhile now, out of a personal and professional interest. I grew up snorkeling and diving with my dad and my brother, going to zoos and aquariums and surrounded by wildlife," Mr. Nosowitz said. "So it was natural that I'd write about new studies in biology, new discoveries, amazing behaviors and insights into the animal world for Popular Science."
And Mr. Nosowitz's interest in animals goes beyond writing about them on the Internet.
"I think I'm going to get a longhaired cat soon," he said. "Like a Norwegian forest cat or a Maine coon. From a shelter, of course."