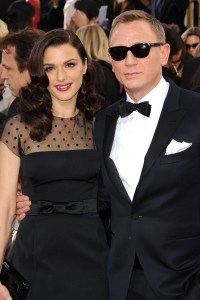 "Betrayal" is actually a pretty good description of what the Broadway experience can feel like these days.
Sitting in the $92 cheap seats on the first night of previews for director Mike Nichols' play felt like being a gargoyle, crouching in the rafters of some medieval banquet hall.
Maybe having your legs pinioned so that you can rest your chin on your knees is the perfect contemplative pose in which to receive a Harold Pinter play. But up in the back, at least, the audience was there to see Daniel Craig.
Celebrity sells tickets on Broadway. Television advertisements for the new production of "Romeo and Juliet" show off its stars, Orlando Bloom and Condola Rashad, being mobbed outside the theater. Bloom, stretched over the roof of a black SUV to sign autographs, recalls a famous 1960s photograph of Marlene Dietrich perched atop a car in London, surrounded by fans like sharks around a life raft.
"Romeo and Juliet" is pretty up front about the fact that it's marketing celebrity over Shakespeare. Other online promotional videos feature the splash quote "Tragically Hot!" from Perez Hilton, and Rashad asking the camera, "what's not tasty about love?"
"Betrayal" certainly suggests an answer to that question—but I will leave that discussion to the critics.
I'm more curious about what Broadway is selling as its product, with its celebrity draws and spiraling prices and add-on ticket fees and compulsory-purchase souvenir sippy cups at the bar.
Standing ovations now seem mandatory for most Broadway performances, especially if they contain a TV or film star. The ritual then continues to the stage door, as it did Tuesday night. There, the throng who paid to see James Bond waits in the hope that he will be signing autographs out of his Escalade, just like the other movie stars in the commercials.
It's hard to know what Craig's action-star fan-base will make of his turn in "Betrayal." The pacing is so restrained that if an unexpected breeze crossed the stage, you could mistake it for the arrival of a new character. And—spoiler alert—he keeps his shirt on.
(Meanwhile, someone cast this man in a Richard Burton biopic. There were moments when he was purring his lines with such cadence and intensity that the resemblance was striking—reinforced by the '70s period haircut his character wears. If Lifetime wants a mulligan on its ill-starred Lindsay Lohan project, "Liz & Dick," they could do worse than Craig and his "Betrayal" co-star and real-life wife, Rachel Weisz.)
"Betrayal" is a chamber piece that benefits from audience intimacy with the actors. If you go, my suggestion would be to shop in the $142—$185 ticket range, so that you have a sporting chance of being able to see a facial expression.
Because at the bargain price of only $92 a seat, Broadway seems to have difficulty delivering a pleasant experience.