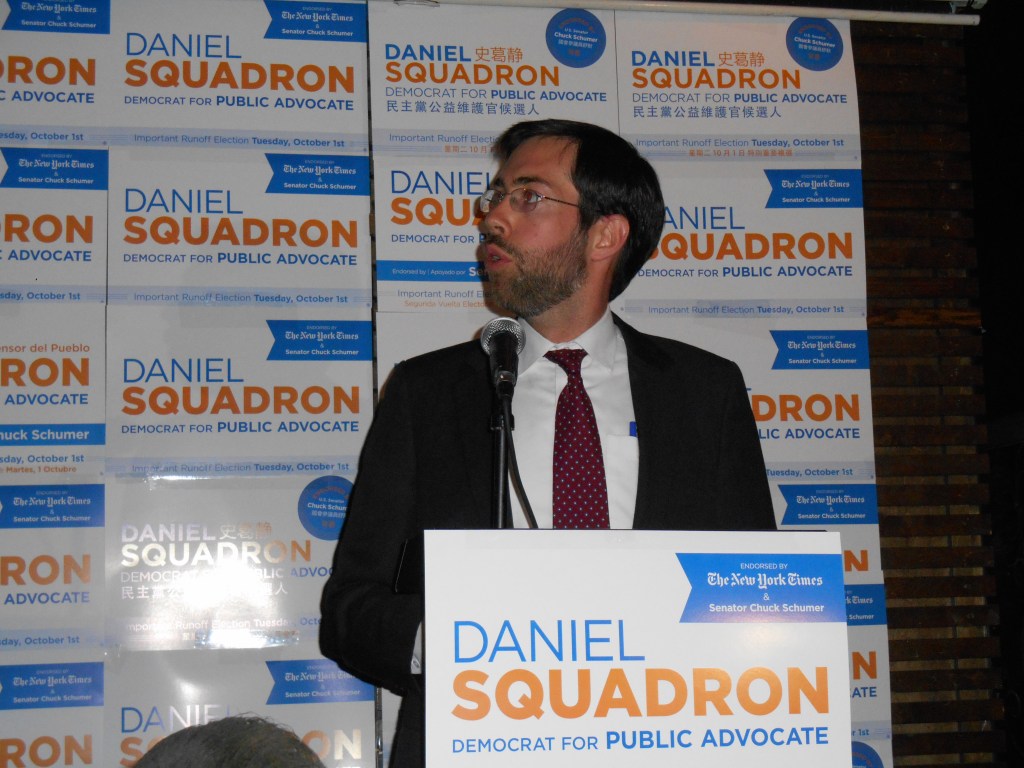 State Senator Daniel Squadron tonight conceded to his rival in the public advocate's runoff, Councilwoman Tish James, ending a race that had grown bitter in its final days.
"This campaign was really about making the public advocate's office a more effective force for those folks who most need it," Mr. Squadron declared at his election-night party on the Lower East Side. "Foster kids, homeless individuals, those in city jails and together, I think we really did make sure those issues were talked about."
Ms. James won the race easily, garnering about 60 percent of the vote with 98 percent of precincts reporting, according to unofficial results from the Associated Press. Despite the barbs the two rivals traded in the last week of the contest, Mr. Squadron was conciliatory.
"We also know that Tish James will be a great advocate for those communities and so many others," he said, as one support cried "I doubt it!" "She ran a great campaign. Her supporters worked every bit as diligently as everyone in this room."
Without a Republican opponent, Ms. James is all-but-assured the position of public advocate.
At his party in The Delancey, a dimly-lit bar jammed with colleagues including State Senators Michael Gianaris and José Serrano, the mood was somewhat glum but far from despairing. Even after the race was called for Mr. Squadron, the several dozen Squadron supporters continued to schmooze and order drinks as music thrummed in the narrow room.
Mr. Squadron, who will still hold onto his State Senate seat, thanked his family and many prominent supporters, including Senator Chuck Schumer, who was not in attendance. He again pledged his support to Ms. James and then left the stage.
"We know that whatever happens," he said, "when you have a city as great as New York, it's a sure shot."