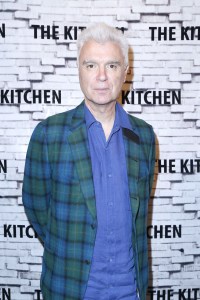 In an editorial published by both Creative Time Reports and The Guardian, Talking Heads frontman David Byrne takes on the weighty subject of how New York City has changed since the mid-1970s. He avoids romanticizing the crime and poverty that coincided with the boom of artistic activity a few decades ago, but writes that as the city increasingly becomes "usurped by the top 1 percent," it risks losing its status as a destination for young artists and, as a result, its cultural relevance. 
Here are some choice excerpts from the piece.
On the relationship (or lack there of) between crime, poverty and creativity:
Some folks believe that hardship breeds artistic creativity. I don't buy it. One can put up with poverty for a while when one is young, but it will inevitably wear a person down. I don't romanticize the bad old days. I find the drop in crime over the last couple of decades refreshing. Manhattan and Brooklyn, those vibrant playgrounds, are way less scary than they were when I moved here. I have no illusions that there was a connection between that city on its knees and a flourishing of creativity; I don't believe that crime, danger and poverty make for good art. That's bullshit. But I also don't believe that the drop in crime means the city has to be more exclusively for those who have money. Increases in the quality of life should be for all, not just a few.
On the role of finance in the city's transformation:
This city doesn't make things anymore. Creativity, of all kinds, is the resource we have to draw on as a city and a country in order to survive. In the recent past, before the 2008 crash, the best and the brightest were lured into the world of finance. Many a bright kid graduating from university knew that they could become fairly wealthy almost instantly if they found employment at a hedge fund or some similar institution. But before the financial sector came to dominate the world, they might have made things: in publishing, manufacturing, television, fashion, you name it. As in many other countries the lure of easy bucks Hoovered this talent and intelligence up—and made it difficult for those other kinds of businesses to attract any of the top talent.
On the super rich, real estate and the future:
Many of the wealthy don't even live here. In the neighborhood where I live (near the art galleries in Chelsea), I can see three large condos from my window that are pretty much empty all the time. What the fuck!? Apparently rich folks buy the apartments, but might only stay in them a few weeks out of a year. So why should they have an incentive to maintain or improve the general health of the city? They're never here.

This real estate situation—a topic New Yorkers love to complain about over dinner—doesn't help the future health of the city. If young, emerging talent of all types can't find a foothold in this city, then it will be a city closer to Hong Kong or Abu Dhabi than to the rich fertile place it has historically been. Those places might have museums, but they don't have culture. Ugh. If New York goes there—more than it already has—I'm leaving.