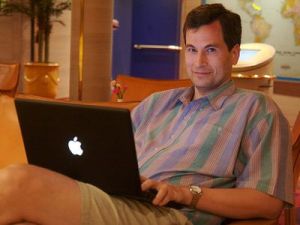 Times tech writer David Pogue is leaving The New York Times for Yahoo, he announced today on his Tumblr. 
Mr. Pogue was swayed by what he called CEO Marissa Mayer's "'try stuff' atmosphere" at what she calls "the world's biggest startup."
"It's true: After 13 years at the New York Times, I've accepted a new job," Mr. Pogue wrote.
Sure, it's hard to leave the Times. But Yahoo!
"But 13 years is a long time to stay in one place; we all thrive on new experiences. So I was intrigued when Yahoo invited me to help build a new consumer-tech site," he continued.
Well, it's not just a "site," according to Mr. Pogue. It's so much more. And so is the company that Mr. Pogue, while critical of in the past, will soon be working for (and is now, not surprisingly, very enthusiastic about).
Actually, "site" doesn't even cover it. I'll be writing columns and blog posts each week, of course, and making my goofy videos. But my team and I have much bigger plans, too, for all kinds of online and real-world creations.
Now, listen: I realize that Yahoo is an underdog. I've given them a few swift kicks myself over the years.

But over the last few months, as I've pondered this offer, I've visited Yahoo headquarters. I've spent a lot of time with its executives. And what I found surprised me.

This is a company that's young, revitalized, aggressive — and, under Marissa Mayer's leadership, razor-focused, for the first time in years. Since she took over a year ago, Yahoo has regained its position as the #1 most visited Web site on earth. She's overseen brilliant overhauls of several Yahoo sites and apps, and had the courage to shut down the derelict ones.

Above all, she's created a "try stuff" atmosphere. She calls Yahoo "the world's biggest startup." People can really make a difference there. Yahoo is getting 12,000 résumés a week from would-be employees. Clearly, underdog status can be an incredibly motivating force. And for people who like to create cool new stuff — I'm among them — working to build the new Yahoo is a very attractive proposition.
Good thing Mr. Pogue, who has often been accused of being overly laudatory of certain brands, had a change of heart and is now a big supporter of his new employer.
Way to go out with a bang.