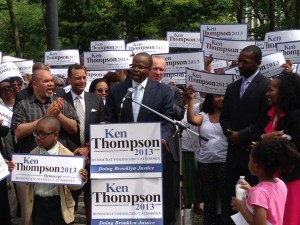 The city's largest municipal labor union has reversed its long-standing precedent against endorsing in district attorney's races, using a special waiver today to endorse Ken Thompson over incumbent Charles "Joe" Hynes for Brooklyn's top law-enforcement job.
Mr. Hynes, who lost the Democratic primary and conceded to Mr. Thompson last month, announced formally yesterday that he had changed his mind and would continue his attempt to defend his seat running on the Republican and Conservative party lines.
The decision has been met with outrage from many Democrats, as well as members of DC37, who voted unanimous today to endorse Mr. Thompson–breaking what members described as a decades-long precedent against endorsing in D.A. races.
"History was made in district council history today," said Santos Crespo, the president of Local 372, one of the union's chapters. "We have always stayed out of that type of endorsement."
In addition to reversing precedent, the union also bypassed its normal screening process, allowing a special waiver to add Mr. Thompson to today's agenda and permitting the union's executive board to make the formal endorsement decision without its delegate committee's usual vote.
Mr. Crespo, who is set to hold a fund-raiser for Mr. Thompson tomorrow night, said union members felt that it was time for change, and were deeply suspicious of Mr. Hynes's change of heart.
"You congratulate your opponent on the win and say, 'We're going to go through this transition together … and on and on.' …. Was that his intent originally, to deceive Ken?" he asked. "There's a lack of trust there, which is not a good thing when you're part of the justice system."
"It's insulting to all those guys who came out to support him," he added.
Update (5:17 p.m.): Mr. Hynes's spokesman Jerry Schmetterer responded to the endorsement by touting the campaign's momentum.
"The people of Brooklyn continue to show their support for District Attorney Hynes. Volunteers are lining up, money is being contributed and the campaign is strengthening every hour," he claimed.