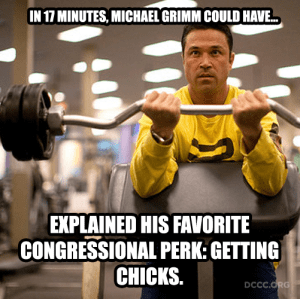 Give them points for creativity–even if it's a tad childish.
The Democratic Congressional Campaign Committee started a new Tumblr compiling things Republican Congressman Michael Grimm "could have done in 17 minutes"–a direct reference to the amount of time a New York Post report suggests Mr. Grimm recently spent in a bar bathroom having sex.
Mr. Grimm has firmly denied that anything "inappropriate" happened at the Bay Ridge wine bar, but that didn't stop the DCCC, the electoral arm of the House Democrats, from launching the "Things Michael Grimm Could Have Done in 17 Minutes" blog listing what Mr. Grimm could have been doing with his finite time.
While it's not clear if Mr. Grimm indeed could have "passed comprehensive immigration reform" in 17 minutes–one of the suggestions on the list–the blog nonetheless provided the Democratic group an opportunity to call attention to controversies and positions they hope to wield against the Republican as he seeks re-election in a competitive, Staten Island-based district next year. (One DCCC item simply reminds that Mr. Grimm once joked that the best perk of being a congressman was "all the ladies. I get little notes, so-and-so wants to go out to dinner.")
Mr. Grimm's office didn't immediately respond to a request for comment, but the Congressman was in a light-hearted mood when the Staten Island Advance recently caught up with him to ask about the bathroom story.
"The only mistake I made was going to a Democratic bar," Mr. Grimm told the publication, chuckling. "I was surrounded by the enemy."