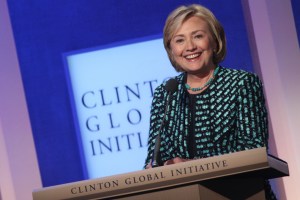 Bill de Blasio's fund-raiser tonight with Hillary Clinton is expected to bring in over $1 million for his mayoral campaign, according to a source with knowledge  of the the sum–and Mr. de Blasio couldn't be more thrilled.
The Democratic front-runner gushed on and on about the former secretary of state at a press conference this morning, declaring "there's literally no one more respected in this country."
In addition to the whopping sum,  Mr. de Blasio said the event, to be held at the Roosevelt Hotel in East Midtown, "is a very, very special moment" for him on a personal level as well.
"We have such respect for Secretary Clinton because my experience with her was a very important experience in my life because of the way she embraced my wife and my children during that experience and the closeness we feel for her," recalled Mr. de Blasio, who managed Ms. Clinton's 2000 campaign for the U.S. Senate.
Speaking at an unrelated press conference at the attorney general's office in Lower Manhattan, Mr. de Blasio said the former first lady and his wife, Chirlane McCray, shared a lot in common.
"One of the things I talk about is that, for that year of my life, you know, I would go to work and I worked for a strong-willed, forceful, progressive Wellesley woman. And I went home to a strong-willed, forceful, progressive Wellesley woman," he joked. "Chirlane and Secretary Clinton had a particular bond because of that shared pedigree."
The appearance, he argued, also gives his campaign a special seal of approval from the reigning queen of the Democratic party.
"What it means for our campaign, I think, there's literally no one more respected in this country than Secretary Clinton, and her vote of confidence is crucially important," Mr. de Blasio said. "It says to New Yorkers that someone they entrusted with their United States Senate seat previously–someone that we've all looked to for leadership as our secretary of state–believes that the things I'm talking about–the changes we need to make, and the approach we need to take–she believes that I'm ready to provide that kind of leadership and help make this city stronger. And that is just a profoundly appreciated vote of confidence."
Then, of course, there are financials gains to be had as well. "And one last practical point. I won't sully these hallowed halls. I'll say this obliquely, attorney general: I think tonight's event will be very productive as well," he said with a smirk.
Mr. de Blasio was also asked whether the former first lady had given him any advice and whether he'd offer any of his own.
"I don't presume to give her advice," he scoffed. "I had the honor of working for her when she ran for U.S. Senate. I did my best to offer her insights then. But I have to tell you, if there's one person who understands all elements of public work as well as humanly imaginable, it's Secretary Clinton."
Updated (1:15 p.m.) with fund-raising estimate.