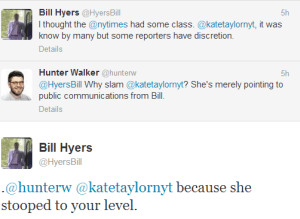 Bill de Blasio defended his campaign manager tonight after the aide insulted reporters for highlighting a 1-year-old Twitter post from Mr. de Blasio's own account that mentioned where his daughter, Chiara, attended college.
"I respect the media, and I also think you need to respect matters of security and matters of privacy and matters of family," Mr. de Blasio told Politicker after a Hurricane Sandy-related event. "So I think he reacted honestly out of concern for security."
After Gawker initially published a story today wondering where in California Mr. de Blasio's daughter, Chiara, attended college following repeated omissions in media reports, a New York Times reporter, Kate Taylor, noted that Mr. de Blasio himself posted the information publicly a year ago. Bill Hyers, the manager of Mr. de Blasio's front-running mayoral campaign, responded by saying he thought her publication "had some class" but apparently was wrong.
When a Talking Points Memo reporter, Hunter Walker, asked why Ms. Taylor was under attack, Mr. Hyers answered with another insult: "because she stooped to your level." (It's not immediately clear what this was in reference to, but Mr. Walker, when he worked for The Observer, once wrote a highly publicized story revealing that Mr. de Blasio's wife used to be a somewhat prominent lesbian activist.)
Pressed further on the topic tonight, Mr. de Blasio said the media, for the sake of his daughter, should not pry any further into her whereabouts.
"I'm just going to be very broad on this for the very purpose that this is obviously a matter related to our family and related to security. That retweet was of something a year ago, and it was very, very different time," he said. "I would ask everyone to recognize that concern going forward. It's a very real thing, so I think everyone can recognize there are certain boundaries."
When another reporter noted that the public knows his younger son, Dante, attends Brooklyn Technical High School, Mr. de Blasio insisted it was "a different matter" with his daughter. Both have been featured in the campaign's television commercials.
"I think it's something people should recognize; there's a real issue here that should be considered. I make myself available almost every single day. There are all sorts of venues for providing information on things that matter," he continued. "There are other issues that take on added meaning when it comes to security, and people need to be sensitive about it. It transcends some of the valid mission you have to provide information to the public that the public needs. Issues of security need to be taken into account also."
Mr. de Blasio was also asked why high school and college, in terms of security and public information, were any different. (While vague references to "security" were enough to shut down press inquiries in the days after Sept. 11, even presidents are accustomed to having their kids' general whereabouts well known.)
"There's a difference in terms of the kind of setting and kind of security available in the setting," Mr. de Blasio replied.