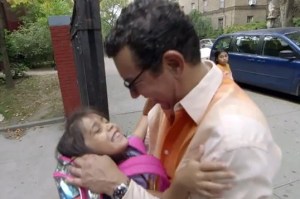 Bill de Blasio's latest ad is missing just one thing: Bill de Blasio.
The Democratic mayoral front-runner released a video this morning that exudes an inspirational, uplifting tone, with a diverse montage of images of everyday New Yorkers going about their lives.
The effort stands in sharp contrast to Republican Joe Lhota, whose most recent ad ominously warned voters of a frightening future if Mr. de Blasio is elected.
Mr. de Blasio's campaign told Politicker the 60-second spot would be online-only.
"This is our city, a city that understands that greatness is not measured by the height of our skyscrapers, but by the strength of our neighborhoods," a narrator declares in the ad, touting a city "that leads the nation, the world, because of shared belief that we all do better when every borough, every parent, every child has a shot."
Watch the ad below:
[youtube=http://www.youtube.com/watch?v=mzAXZ8N5aVQ&w=420&h=315]