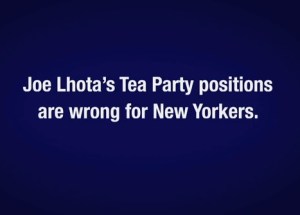 Hours before he takes the stage for the first general election debate of the mayor's race, Bill de Blasio made it clear he isn't letting a 50-point lead public polling stop him from going negative.
In a new web ad released this morning, the Democrat hits his Republican rival, Joe Lhota, for his alleged ties to the Tea Party.
"Joe Lhota hasn't been shy about his affinity towards Tea Party position," begins the ad, which borrows heavily from a NY1 report on Mr. Lhota once telling a Staten island Tea Party group that gun permits should be easier to obtain.
"Joe Lota's Tea party positions are wrong for New Yorkers." the ad concludes.
Mr. Lhota has tried to distance himself from the increasingly unpopular Republicans in Washington, calling their positions extreme. But that hasn't stopped the de Blasio campaign from trying to link the two.
"Joe Lhota is trying to downplay his ties to the right wing of the Republican Party — but the truth is he was pandering to the Tea Party throughout the Republican primary, and he continues to try and curry favor with them in the general election," Mr. de Blasio's campaign manager Bill Hyers said in a statement. "If Joe Lhota can't stand up to the Tea Party, how is he ever going to stand up for everyday working and middle class New Yorkers."
Reached for a response, Lhota campaign spokeswoman Jessica Proud dismissed the ad's attacks.
"They're clearly desperate to change the conversation off of Bill's attacks on the NYPD and his opposition to charter schools, but this is a tired playbook," Ms. Proud told Politicker. "Let's hope Bill brings something a little more creative to tonight's debate."
Watch the ad below:
[youtube=http://www.youtube.com/watch?v=ZoZAlcsB9YY&w=420&h=315]