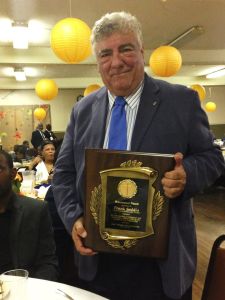 The chairman of the Brooklyn Democratic Party was left scratching his head when Democratic officials endorsed a Russian media mogul write-in candidate over the party's nominee in a City Council race yesterday.
Frank Seddio was almost as amused as he was bewildered by the decision, less than three weeks before Election Day.
"Frankly, I am surprised that they endorsed him," Mr. Seddio told Politicker earlier today. "I do know they have a long-term friendship with him. It makes the race that much more interesting."
Democratic Assemblyman Alec Brook-Krasny and district leader Ari Kagan, who narrowly lost last month's primary for the seat, both snubbed the party's nominee, Chaim Deutsch, by endorsing Gregory Davidzon, the owner of a Russian-language radio station and several print publications. Mr. Davidzon does not identify with any party and is not registered to vote.
Also running for the seat are Republican David Storobin and Working Families Party candidate Igor Oberman.
Mr. Seddio expressed disappointment but said he understood why the Democratic pols would back Mr. Davidzon, a self-professed political kingmaker in the Russian community. Mr. Seddio compared the race to the Brooklyn district attorney contest, in which incumbent Joe Hynes is continuing to campaign despite losing the primary.
"I'm absolutely fascinated by the political occurrences this year. Joe Hynes, a longtime Democrat, is running for district attorney on the Republican and Conservative lines. Three people are running against the Democratic candidate in this council district," said Mr. Seddio. "If I had to guess, using my own political judgement, it all depends on if Davidzon really identifies voters and campaigns."
Like other close observers of the race,  Mr. Seddio also said he believes that Mr. Davidzon may pull Russian-speaking voters away from Mr. Storobin, a fellow Russian-American, and actually help Mr. Deutsch as they compete for term-limited Mike Nelson's seat.
"This all may very well be helpful to Chaim, as a sole Democrat and Orthodox Jew in a district that has a great mix of Orthodox, Asians and Russians. It gives him the edge," Mr. Seddio predicted. "You know what my grandmother would call this? Meshugganah," he added, using the Yiddish word for "foolishness."
"The last time I saw a write-in candidate in my district, someone voted for Mickey Mouse for governor," he added with a laugh.