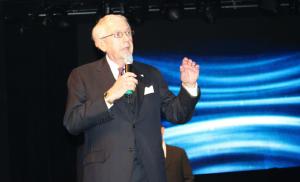 Democrats are fuming over Brooklyn District Attorney Joe Hynes's decision to challenge Democratic nominee Ken Thompson on the Republican and Conservative lines after handily losing to him in the primary.
"Ken Thompson won the primary fair and square. This is no time for Joe Hynes to turn his back on the Democratic Party. We profoundly regret his action after a long and distinguished career in public service," Frank Seddio, chair of the Brooklyn Democratic party, said in a statement reacting to the news, which was first reported by the New York Post.
"The cynical Republican-led effort to create an internecine feud among Democrats in the race for Brooklyn District Attorney will end in failure. Brooklyn Democrats are 100 percent united behind our candidate Ken Thompson who will win in November," he vowed in the statement, which was tellingly sent by the firm that represented Mr. Hynes in the primary.
Mr. Thompson's spokesman, James Freedland, also blasted the decision and said that Mr. Hynes would lose.
"It's sad that Mr. Hynes refuses to accept the will of the people, as he repeatedly pledged to do last month," he said via email. "We look forward to a clear contrast between Democrat Ken Thompson and Republican Joe Hynes, who has lied to the public so that he can run with Joe Lhota and the Tea Party forces in the Republican Party who have shut down the government. And we are confident all of Brooklyn's voters will render the same verdict as they did in the primary."
Mr. Hynes had repeatedly pledged to bow out of the race, telling the New York Law Journal that he would not contest his re-election after losing the Democratic primary. At the time, he said he was "flattered people are trying to persuade me, but they've been unpersuasive" and said his decision was "very firm."
The DA's office did not immediately respond to a request for comment. But DA spokesman Jerry Schmetterer, who has reportedly taken time off to assist Mr. Hynes with the campaign, told the Post, "The DA is making a formal announcement Tuesday to lay out the reasons for his decision to continue the campaign."