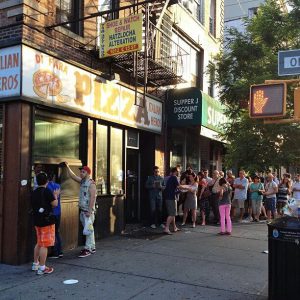 The Daily News fired a broadside at Bill de Blasio this morning, charging that the Democratic mayoral candidate "eats his pizza with the 1%" because he said the iconic Brooklyn pizzeria Di Fara has the best slice in town.
But this accusation may have overreached, according to a friendly Di Fara Pizza employee when reached for comment.
"No, I feel like we have a very unique product," she told The Observer. "Anyone who tries it is going to find it to be a quality product. We hear people all day saying it's one of the best things they've ever eaten. No matter what percent you're in, once you try it, you'll love it."
The accusation was based on shop's pricier pies–$28 for a regular pie and $5 for slices–high for a thin crust slice perhaps, but not necessarily a threshold that can only be reached by the ultra-rich. It does not appear to be the pizza equivalent of copper bathtubs, for example.
Indeed, Mr. de Blasio's campaign spokesman, Dan Levitan, piled on over Twitter.
"You know who else think's Di Fara is the best pizza in NYC?" he asked, pointing to a Daily News review that noted the pizzeria was enjoyed by "Midwood locals."