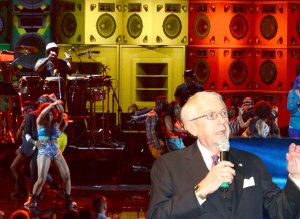 Step aside Joe Lhota, there's a new musical act in local politics.
Charles Hynes may be facing the electoral fight of his life, but his campaign also seems to be having a good time, celebrating with a new custom reggae tune.
The "special song" written for Mr. Hynes by Jamaican artist Chris Howell, appeared on the campaign's SoundCloud account a couple of days ago, and provides a catchy Caribbean-infused jingle for his re-election bid.
"Charles Hynes, represent!" the singer declares. "Charles Hynes! Charles Hynes, my district attorney from Brooklyn! Mr. Hynes!"
The effort seems to be part of a burgeoning trend of musical-themed ads as the election nears it final stretch. Yesterday, Mr. Lhota, the Republican mayoral candidate, released a new ad featuring a dubstep beat.
Mr. Hynes was defeated in the Democratic primary by attorney Ken Thompson but is continuing his campaign in the November 5 election on the Republican and Conservative party lines.
Listen below:
[soundcloud url="https://api.soundcloud.com/tracks/116010223″ width="100%" height="166″ iframe="true" /]