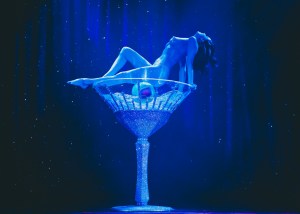 "That's every girl's dream!" gushed model Karlie Kloss on the steps of Musée Galliera in Paris at the recent opening of a retrospective on the works of French-Algerian designer Azzedine Alaïa. "I think there is no other designer in the world that can dress a woman's model in the way that Alaïa can," she continued with a cat-like smirk. "The way that he uses fabrics and textures and keeps that classic silhouette—incredibly sexy."
And Alaïa isn't the only one who can get a lady's juices moving. At a cocktail reception in Paris at the lavish Four Seasons Georges V, Israeli socialite Hofit Golan told us that Elie Saab couture left her feeling the fever. And at Jean Paul Gaultier's runway presentation, Shindigger must admit that Hannelore Knuts, who danced the tango, left us burning with desire.
Meanwhile, back in New York, the master barista for Le Méridien, Fritz Storm, held a breakfast at The Little Owl during which he and his colleagues unveiled the results of a survey they had commissioned about coffee, sex and travel habits. According to the study, 53 percent of respondents reported they prefer coffee to sex as the ideal wake-up call. Maybe coffee is sexy nowadays? "I have to say that, even as a very passionate coffee-lover and espresso devotee, I still would prefer sex for a year above coffee for a year," Mr. Storm declared.
That same week, jewelry designer Lisa Salzer and her boyfriend/co-designer Marlon Taylor-Wiles, hosted a New York fête at clandestine Chelsea spot The Red Door, to celebrate the second collection of their menswear accessory brand, George Frost. "Subtleties," confessed Mr. Taylor-Wiles in regard to what makes his male clients feel sexy. "Flying under the radar," he added.
Later that evening, Shindigger traipsed uptown to MoMA, where Marvista Entertainment, Lifetime and the Cinema Society presented a premiere for the made-for-TV House of Versace. Based on a juicy book by Wall Street Journal reporter Deborah Ball, the movie traces the tragedies and battles of designer Donatella Versace after the gruesome slaying of her brother, Gianni Versace.
The flick felt flat, though Gina Gershon, who stars in the film, does her best to turn water into wine, acing many of Ms. Versace's taut and sheepish mannerisms. At the after-party, held at the newly opened B & Co. on East 58th Street, Shindigger sauntered up to the film's star after a few baby bottles of bubbly.
"There are a couple of scenes that were fun," Ms. Gershon explained. "Like the photo shoot, I had a lot of fun with that scene. Or when she wasn't upset or in a tragic situation, you got to just see the fun side of her and let her spirit come out." She also detailed some of the challenges of the role: "[Donatella's] physicality—the way she walks and moves is very different from mine. I really had to concentrate." As for what makes the actress feel sexy, there is only thing: "My boyfriend!" she exclaimed.
Then it was time to take our dirty thoughts to the queen of all things carnal, the divine burlesque performer Dita Von Teese. Ms. Von Teese was in the midst of a weeklong run of Burlesque: Strip Strip Hooray! at the Gramercy Theatre, so the timing couldn't have been better. We watched her gyrate her curvaceous body and kick around in sparkling Christian Louboutin platforms before her big finale when she took a Cointreau shower in a bedazzled martini glass. Shindigger just knew she would have all the answers.
"I spend about two to three hours in the dressing room. I do my own hair and makeup. I listen to music. Just keep calm and have fun and get in a good mood," Ms. Von Teese said of her preshow routine. "That alone time in front of the mirror is my biggest preparation. I get a lot of pleasure hearing the audience's reaction when I am backstage."
In terms of where she discovers her sexy swagger for the show: "I read a lot," she explained. "I draw inspiration from the past, especially from burlesque stars from the past. I get a lot of inspiration from films, especially old films and thinking of how to translate big Hollywood musicals from Golden Age to strip tease."
Ms. Von Teese described a full calendar of future plans: an upcoming push for her lingerie line that débuted last year and the launch of a fragrance coming out later this year. "I am continuing my evolution and my career and shifting from my performance to my brand," she elaborated. "I was as hands-on with all of my lingerie and perfume collection as I am with my shows, so I feel pretty good about where it is going."
And in the end, it's not all liquor and lace that keys her happiness. When we asked what her first private indulgence is after each show, she giggled: "Eating!"
"I eat right through the day, and all I can think about is the joy of eating something that I might not normally eat," she rambled on. "When I am expending all of that energy, I can eat late at night. I just get excited about eating after the show."
And trust us, watching Ms. Von Teese grow excited is a sight anyone would want to see.