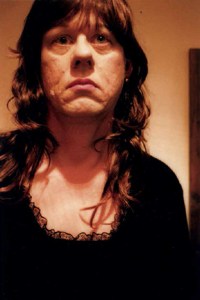 "When I put on my dress and prosthetic breasts, it felt frightening to go out into the night. This was, as a good friend would say, information. Precisely which other information I sought by becoming Dolores is not entirely transparent to me, but I might have learned it, or other things, in the course of this experiment. For a summation, I refer interested parties to the novel, which is called How You Are."
Now this is balls. Not that William T. Vollmann, the most compelling and compulsive novelist of his generation (b. 1959) has published a book of photographs and drawings documenting his attempts to pass as a woman named Dolores, but that in the commentary to the images he has referred readers to another book of his not yet published—a book that required him to do his research in drag. How You Are, a novel detailing the transformation of Mr. Vollmann into Dolores, hasn't been bound yet, and, given the author's process of editing by accretion—layers of prose like concealer on bald plots—might not even be finished, but The Book of Dolores certainly exists: 200 full-color, glossy pages of cross-dressing decline, hard-covered and soft of belly.
Mr. Vollmann as his alter ego, Dolores, has lost his rectilinear plastic glasses but gained thick eyebrows and plumped eyelashes: The author's original brows and lashes were lost in a fire accident on a trek to the magnetic North Pole to research an installment of his seven-novel series documenting the destruction of the native peoples of North America (Seven Dreams). That was a comparatively tame risk for the author, who has hung around with the mujahideen (An Afghanistan Picture Show) and reported from war zones throughout Asia, Africa, the Middle East and the former Yugoslavia (fodder for his seven-volume history of violence, Rising Up and Rising Down). More recent forays have been into poverty (Poor People) and life along the California-Mexico border (Imperial), where he never neglects to find love amid the squalor.
Indeed, Mr. Vollmann's mode has always been more XXX than chromosomally XX, and his best fiction has been about the many prostitutes he has spent time with (The Prostitution Trilogy of Whores for Gloria, Butterfly Stories and The Royal Family). But exchanging money for sex doesn't help a man understand women any better than owning a pet helps a person understand what it means to have a child—and if the terms of that sentence seem tendentious, it's only due to the outsize influence of Mr. Vollmann's style.
No one is utterly free from vanity or anxiety, but in my own various projects I resist defining myself on the basis of others' judgments. While I like very much to please others, I decline to depend on their pleasures. A vitriolic review of my latest book might cause me five minutes of embarrassment; a friendly one might buck me up for an instant; either way, it goes in the scrap paper box; my books remain as good or bad as they were before. Call this defiance if you will. I call it acceptance. As for Dolores, the blandly damaging remarks of women or the menacing obscenities of men cause her misery, and the poor thing is happy whenever someone compliments her hair. Thus I live out my childhood. Fortunately, Dolores does not exist; I can lock her in the closet whenever I wish; I'm the man around here.
Mr. Vollmann decided to begin cross-dressing—first in private and then publicly, even strutting the streets of Veracruz, though never taking a customer—out of crisis: "Near the end of my forties I began to discover that my winning ways, such as they were, had become less effective with the opposite sex." Some men buy convertibles or join gyms; Mr. Vollmann donned the wig and stockings.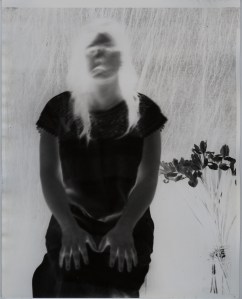 His text includes technical notes on the images, and a few excerpts of How You Are that read like Malcolm Lowry erotica: "Dolores, smiling like a happy, sickly middle-aged man as she combed her long coppery hair down her face, offered the world fat pink lips, white greased cheeks and rainbow bruises of eyeshadow as she emerged from her dark doorway, swimming into the darker street whose coins of white and orange light hung around her ears like parasites." The images themselves are casual, if not lazy. The portraits of Dolores in Oaxaca and Veracruz are pencil and watercolor, and woodcut prints; the photos, both black-and-white and color, were taken with a 35 mm Contax, a Kodak 2-D field camera and an antique large-format Wisner, though the "80-odd kilobytes" apparatus Mr. Vollmann refers to is just the cyclopean selfie eye of his laptop. The silver gelatin positives turn autobiography into wistful hagiography, while the color positives maintain a self-aggrandizing cruelty. Most interesting and most difficult among Mr. Vollmann's processes is the gum bichromate, which "entails the contact printing of a negative or photogenic drawing onto a sheet of custom-size watercolor paper that has been brush-coated with a mixture of watercolor paint (diluted in gum arabic) and any one of three chromium salts," rendering the surface photosensitive. This technique is applied to a spate of traditionally developed and digitally captured images featured earlier in the book, obscuring them with a pixilation reminiscent of sepia raster, turning Dolores truly dolorous, a woman of sorrows and a bordello saint.
The strangest thing about all the Dolores images is that, unlike any images of Mr. Vollmann as a man—as a white male author depicted on book flaps—Dolores is smiling. S/he's either posing for the camera, with the idea (which only a man could have) that women should smile, or else he's truly happier as a she. Autogynephilia: attraction to oneself in the form of a woman. That is apparently Vollmann/Dolores's malady in the novel promised. Of course, every novelist might suffer from autophilia, or a general love of self, and it often is responsible for his or her most personal works. This book might not be Mr. Vollmann's most personal, but it does give a sense of how he puts together his fiction: the intensely eidetic prose as remanence not just of the observed but of the experienced. A major writer has left us alone in his studio to play around with his tools: cameras, film, developing baths, brushes, paints, pencils and pens. He has left us alone in the studio of his sex.
editorial@observer.com