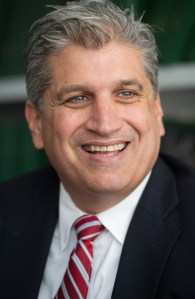 Brooklyn Councilman Domenic Recchia, the latest Democrat trying to oust Republican Congressman Michael Grimm, outlined in frank detail his path to victory last night in front of a local Democratic club.
Mr. Recchia hopes to crush the Republican incumbent by winning the Democratic strongholds in the district, which includes Staten Island and parts of Brooklyn. He's relying on old-school identity politics, too.
"We have to win Brooklyn big. We win Brooklyn big, we take the North Shore, we fight Michael Grimm on the Mid-Island and we get all the Italian-Americans on the South Shore," Mr. Recchia told members of the Bay Ridge Democrats. "That's our focus. People laugh but this district has one of the largest number of Italian-Americans than any other congressional district in the country."
"And the South Shore, we're going to do well out there … We've started to recruit people and focus on how we can win the South Shore," he added. "It's going to happen."
While Mr. Grimm easily won re-election in 2012 against Democrat Mark Murphy days after the devastation of Hurricane Sandy, the district supported President Barack Obama, giving hope to Democrats that Mr. Grimm, facing ongoing ethics inquiries, is vulnerable. The district, which ropes in slivers of Brooklyn including Mr. Recchia's council district, has traditionally been seen as a Republican stronghold.
But evolving demographics could buoy Mr. Recchia. Staten Island's North Shore is home to a growing number of minorities and immigrants who are more likely to vote Democrat. And the conservative and heavily Italian South Shore could be willing to vote for an Italian Democrat, as Mr. Recchia contended.
Working against Mr. Recchia, however, is history. Brooklyn Democrats have traditionally fared poorly in the district.
Mr. Grimm's campaign compared Mr. Recchia's strategy to "fantasy football."
"When someone's strategy is running on their ethnicity, it is pretty obvious they have nothing of substance to offer – even after a decade in the City Council," charged a campaign spokeswoman. "This is the exact same tactic used by Grimm's 2010 primary opponent  – also from Brooklyn –  and he lost by almost 40 points. Recchia's strategy is just like fantasy football – a lot of fun, but it's not real."