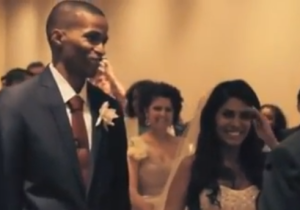 In a gesture that's sure to please all of The Notebook's most type-A fans, a young man planned a surprise proposal and wedding for his girlfriend using nothing but her "My Dream Wedding" Pinterest board.
Amanda Roman's exhaustive board includes such Pinterest staples as inspirational quotes, makeup tips and even sparkly guilt-inducing weight loss crafts. With more than 220 pins, the only thing she was missing was a fiancé :
Luckily, her boyfriend Ryan Leak wasn't weirded out by her intense online wedding planning. Instead, "her soulmate turned out to be just as good at reading her Pinterest as he was at reading her heart," the Daily Dot says because it wants us to puke today.
Mr. Leak overheard Ms. Roman tell a friend she wanted to get engaged and married on the same day, the Daily Dot reports, and he realized virtual volumes of her own wedding fanfic were sitting right under his nose. He pored over her choices for the wedding dress, bridesmaids' outfits, centerpieces, wedding scrapbooks, etc., etc., etc., and set it all up.
He decided to fly her to "his dream wedding city, Miami," because nothing says romance like topless beaches and cocaine, and proposed to her at the site of the wedding before surprising her even more with a full wedding:
[youtube=http://www.youtube.com/watch?v=2-mz5XJPif8&w=420&h=315]
Pssh, what, no, we're not crying. Fine, they're super adorable. And there's even a 30-minute documentary on the entire process. BRB, we have to ummm go do something, be back in like a half hour.
[youtube=http://www.youtube.com/watch?v=vqgRaZIRHRI&w=420&h=315]