In Dylan's Candy Bar on the Upper East Side, a lollipop tree hovers over the entrance. Moldings above the cabinets are shaped to look like dripping chocolate. A colossal Easter bunny stands in the corner like a sentinel. Stairs patterned with lollipops ascend to a café where cupcake-shaped booths feature tabletops full of gumballs. Macarons are available in a rainbow of colors. Donuts are decorated not just with sprinkles but with clusters of broken Oreos and Reese's Cups.
And yet the patrons in the store are mostly women who look as though they order salads without croutons.
"Our average customers are usually women in their thirties," explains Dylan Lauren. "When I look around our stores in New York or Miami, the customers are very health conscious, but they love their candy."
They look, honestly, not unlike Ms. Lauren, a 39-year-old beauty who appears more like the face of a fitness franchise than a candy mogul. "I do weights and aerobics, because I know I have to eat candy every day," she said. "I sample it and try to have protein, so I'm not always craving sugar." She also notes that her store offers non-caloric ways to get a sweet fix, like colorful bathrobes with candy patterns and donut-shaped pillows.
But as soon as most people walk in, their inhibitions and diet resolutions seem to fall away. There isn't another candy store like it in town, and possibly not anywhere at all.
"There's a happiness you feel when you walk into the store," Ms. Lauren says. The scent of baking donuts and macarons wafting through the space contribute to that.
Ms. Lauren has been meticulous about the details of her emporium, down to the last teal-colored M&M.  She mosaicked the tables with candy wrappers herself. "I knew I wanted it to look like a very high-end candy store. Most candy stores look tiny and dirty. I wanted Dylan's Candy Bar to be like a museum showing off candy as art. I loved the fantasy component—to be like Willy Wonka, or Alice in Wonderland or Oz," she reveals.
The inspiration for the store came from Mr. Wonka himself. After she saw the movie Willy Wonka and the Chocolate Factory at age 6, Ms. Lauren resolved to find a way to make it to the factory. "I saw it and loved the movie, and the idea of living in a candy world stayed with me … I just wanted to live in a world full of candy. Movies like that, or Disney movies or The Wizard of Oz still inspire me in terms of a fantasy world."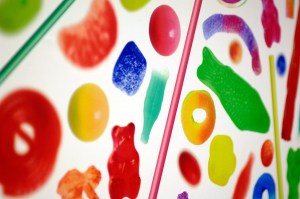 Ms. Lauren's "factory" really does seem like a place where people feel free to indulge in a way they never would in their day-to-day lives.
In a city that lunches on BluePrintCleanses, there is something almost reckless about a space where you must submit to a two-scoop minimum on ice cream (No, you can't have it in a miniature kiddie cone, but the pretzel cone is delicious.).
Perhaps that's because Dylan Lauren has created more of an experience than a retail store. In that regard, some might compare her to her father, Ralph Lauren. Originally from the Bronx, the designer created a brand that made everyone feel they were part of a WASPy fantasy world, populated by polo players and blond families enjoying mosquito-free picnics.
Just as it's impossible to step into Dylan's Candy Store and not feel giddy, it's out of the question to go into the Ralph Lauren store and not feel like you ought to be going to a regatta sometime in the near future. And that you will, indeed, be competing in and winning that regatta.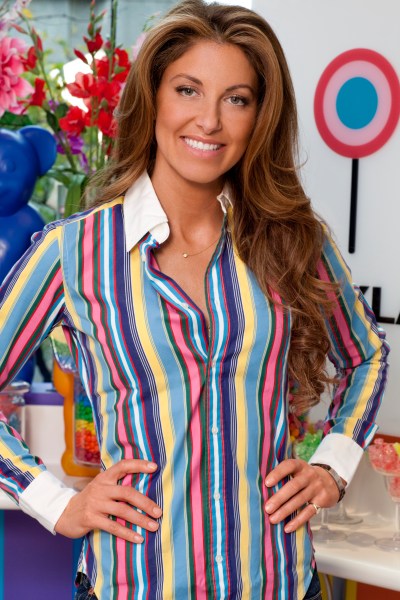 Mr. Lauren had always known that his daughter would be an entrepreneur. When she was 6, he wanted to name a perfume after her, only to be informed that she wanted to save the name Dylan for her own brand. Although she studied art history at Duke University and tried working as an event planner—a job at which she was always trying to convince clients to incorporate candy into their celebrations ("People liked it!")—she never gave up on her childhood dream of creating a world full of candy.
When she was first trying to pitch her idea to investors, most didn't grasp how her store would be different. Her father did, and he urged her to press forward.
Not just because he is her father, but because he shares her visionary instinct. "He understood why I wanted it to be a lifestyle brand and a fantasy land," says Ms. Lauren. "So many candy stores are fixtures and flat wall. They don't make you feel very good. He knew it had to be like Walt Disney. He got it. Other people would be like, 'Candy is everywhere, why do you need that?' and I kept trying to explain, 'We're picking candy from around the world, it's going to be a fantasy space, it's very different.'"
Ms. Lauren is quick to note that it's not just for the kid in you—they also have a cocktail bar. Admittedly, it's one where you'll sit on peppermint-shaped stools and sip a Pop Rocks cocktail or a Gummy Bear martini. So, it's the way you imagined cocktails might be when you were in kindergarten.
But the business savvy is very adult. Dylan Lauren has managed to surround herself with people with great entrepreneurial instincts, including her husband, Paul Arrouet, the founder of Marblegate Asset Management. The couple wed in 2011 after he proposed using Hershey's Kisses. Ms. Lauren mentions that it's her husband who is the true chocolate lover­—she typically prefers gummy candies. She laughs that he helps her sample everything and that, "I've introduced him to new donuts and the ice cream. He likes the decadent stuff, so I'm probably a bad influence on him."
Whether it's bad or good (we'd say good), Dylan Lauren's influence is growing. In 1998, when she was working as an event planner, she told New York magazine, "Most of us have as much power as older guys in suits, and soon enough, we'll have more than them." Those days may be here.  This July, Dylan's Candy Bar partnered with LeSportsac to create a line of 14 bags, which ranged in price from $18 to $188. They bore designs of peppermints, gumdrops and other Dylan favorites. She's also working on developing tech accessories—iPhone covers and laptop sleeves—which will likely be printed with similar designs.
Now, Dylan's Candy Bar is poised to expand to airports across the country. The company signed an exclusive license agreement with the airport retailer Paradies Shops in 2012. Gregg Paradies, CEO of Paradies Shops, said in a statement, "We are excited to offer airports a creative retreat where customers can step into a modern-day Candy Land, escape the hustle and bustle of the day and indulge in the world's finest candies, confections and apparel."
The only worrisome aspect is the possibility that, in cramped airports, Dylan's will lose its fantasy element and become, well, just another tiny candy store in a busy space. "It's a challenge," Ms. Lauren admits. "The airport stores are around 1,000 square feet, so we're going to have high ceilings so there'll be a lollipop tree. We'll also put in candy wallpaper and we have the candy-cane columns."
Just as it might not be Willy Wonka's without a chocolate river, or Ralph Lauren's without a polo mallet, it would hardly be Dylan Lauren's without a lollipop tree.