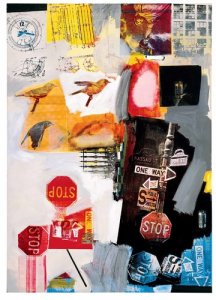 Over in The Times, Carol Vogel has the scoop that MoMA will acquire Robert Rauschenberg's 1963 painting Overdrive. Amazingly, it's the first early silkscreen painting by the artist to enter the museum's collection, and it's a great one.
"It was an inconceivable gap," Ann Temkin, the chief curator of painting and sculpture at the museum, told Ms. Vogel. "Most of those early paintings are in museums by now."
These silkscreened paintings helped inspire art historian's Leo Steinberg's landmark 1968 lecture on what he termed the "Flatbed Picture Plane" within contemporary art of the time, as painting went from being a vertical window onto another world to a horizontal surface onto which images and information could be gathered, which Steinberg termed a "shift from nature to culture." That lecture was edited into an essay and published in Artforum and his book Other Criteria. An excerpt:
I once heard Jasper Johns say that Rauschenberg was the man who in this century had invented the most since Picasso. What he invented above all was, I think, a pictorial surface that let the world in again. Not the world of the Renaissance man who looked for his weather clues out of the window; but the world of men who turn knobs to hear a taped message, 'precipitation probability ten percent tonight,' electronically transmitted from some windowless booth.
The work has been promised as a gift by Manhattan financier and MoMA trustee Glenn Dubin and his wife, Eva, who reportedly picked it up from Larry Gagosian.