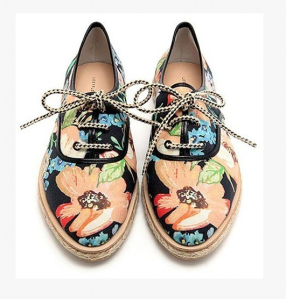 Start with the word "curator," plop in a Pinterest-like layout, and pour in chillwave singer Solange Knowles and you'd pretty much get the gist of eBay's new stunt. But if you're still interested, let us explain: Today, the online retailer announced that it's creating "Collections" that are curated by "tastemakers" on a revamped marketplace that is essentially a Pinterest knock off.
As Racked writes, the collections closely resemble the lovechild of Pinterest and Etsy. Users can create boards full of junk they like on eBay, share them with your friends and hopefully entice people to spend some money. eBay announced that a special selection of buzzy tastemakers, like famous Twitter person Kelly Oxford and never one to forget an RSVP Pharrell Williams, all have collections. (We actually like Solange's boards because her love for prints is ON POINT.)
At today's event in New York, human hashtag Pharrell expressed his excitement: 
He made sure everyone caught his catchphrase, "it's the cure to FOMO," and explained "there's power in numbers," referring to eBay's massive inventory and millions of unique visitors every day. Plus, he said, it's "so so so fun."
Also, eBay is pushing forward with its same day delivery service, eBay Now. It's expanding past its confines in New York and San Francisco and plans to add 25 cities soon to its roster starting with Chicago, effective today. London will be its first European city to use eBay Now in early 2014.
We'll be excited when we can schedule a same day delivery of Solange to our doorstep for an intimate concert, so.