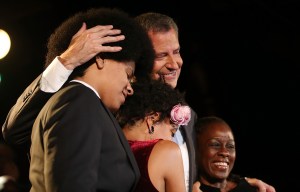 I had to laugh when I read recently that Bill de Blasio, the Democratic candidate for New York City mayor, is leading the polls, because voters supposedly like his interracial family. It reminded me that, years ago, my wife tried to convince me to run for elected office.
"You'd be a great politician," she argued at the time. "Why not give it a try?"
I reminded her of my complete lack of political or executive experience or, really, a résumé of any kind. (Mine pretty much peters out after the part where you list your address.) If only I had known that it isn't what you've done in life that qualifies you for office but who you marry.
I am a white Anglo-Saxon Protestant man from an ordinary middle-class suburb—superficially, a zero on the excitement scale, with the kind of socioeconomic profile commonly associated with hot trends like pipe smoking and Pilgrim hats. My wife, however, is a Korean immigrant. Now, before anyone offers me a judgeship, let me add that my wife's two brothers also married spouses of different ethnicity—one Italian-American, the other from the Caribbean island of St. Vincent, which makes our family gatherings (about 20 people evenly divided into black, white and Asian, with lots of children no one can place) look like the glorious fruition of America's racial progress or just a Chuck E. Cheese's in Queens, depending on your perspective.
Does marrying someone of a different background make one better qualified to be a leader? I've been thinking, and the answer undoubtedly is yes. Being exposed through my wife's extended family to a wide array of international trends—the cultural passions that excite the masses beyond America's limited borders—I am something of a global citizen. In other words, I am well versed in game shows, soap operas and rap in foreign languages.
I have also acquired the interpersonal skills necessary for creating instant bonds with those of disparate backgrounds and customs, largely through spending a good part of my adult life participating in conversations in which I didn't understand a word. As any politician can tell you, being able to nod attentively and make appropriate facial gestures as people discuss things you're clueless about, like the bill you just sponsored, is essential in political life.
What about the ability to knock heads together and manufacture compromise? Let me assure you multicultural families are no different than other families: We cannot go to a restaurant (even the same restaurant we eat at each and every time we go out) without calling in seasoned diplomats to negotiate a war of attrition that threatens to explode into a regional conflict. (The restaurant? Chuck E. Cheese's, of course.)
Many consider patriotism the most indispensable quality for a leader, and, believe me, those of us in multicultural families have patriotism to spare. They say no one loves America more than a first-generation immigrant, because the immigrant knows what he has left behind, and, indeed, I have heard enough horror stories about corruption and backwardness in far-off places to have a real appreciation for our own corruption and backwardness.
Finally, as the de Blasios have eloquently testified, mixed-race couples often face prejudice, whether from family members or society at large. Some of the qualities that can keep an interracial couple together are a shared sense of idealism and a commitment to social change. Also inertia, laziness and fear of being alone.
In a funny way, it's the homeliness of Bill de Blasio and Chirlane McCray—middle-aged parents defined by their children, eye bags and lack of multiple vacation homes—that make them appealing to New Yorkers after years being governed by a decidedly otherworldly group—not just the mayor but his entire jet-setting cohort. And I suspect the de Blasios know this all too well—interracial couples are never unaware of how they're perceived—which equips them to be successful politicians indeed.