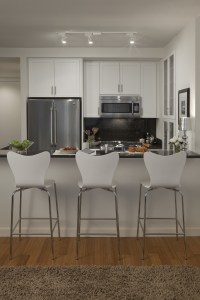 People Are Moving On Up
If you're looking for a great rental, you might want to skip midtown. The uptown markets have an abundance of rental properties. "Yorkville on the Upper East Side stands out more than most," said Mr. Menendez.
"The Upper East Side and the Upper West Side have more rentals," added Mr. Marrello. "The whole condo craze in the last six to seven years has been built downtown in Soho, Chelsea, and Tribeca, but the uptown market still has its rentals."
The rental market is picking up in the outer boroughs, too. "Williamsburg has a pretty high rent-versus-buy structure," said Eugene Litvak of Citi Habitats. "There are 4,500 new units to hit the market in the next two to three years and 4,000 are rental units."
What To Say If Someone Asks 'Are You Still Renting?'
"You simply have those renters who will 'buy at some point' but they never pull the trigger. I call them perma-renters," said Senad Ahmetovic, a rental agent at Halstead Property.
Another factor is not having a down payment to buy or the credit to qualify for a mortgage, explained Ms. Forrest. She also noted that "some people do not know the status of their personal lives or whether they will remain in Manhattan for longer than five years."
If you happen to stay longer than five years, you still might be better off renting. "If you are in your 50s and 60s and renting in the city, chances are you are rent stabilized or regulated," said Mr. Marrello. "You can be paying thousands under market."
There are other advantages to renting, too. "Renting allows people to be more transient and explore more building types and neighborhoods without the financial commitment of a purchase," said Mr. Menendez.
"You also have the renters that are only interested in living in the 'hot new' property year after year," he added.
The Hot New Properties
We know you're one of those people.
Glenwood Properties stands at the forefront of luxury living in New York and has amassed several notable buildings in its portfolio, including uptown favorites like the Bristol, the Belmont, the Regent and Crystal Green, as well as downtown gems such as the Barclay Tower, Liberty Plaza and the Tribeca Bridge Tower.
"Leasing activity across the entire Glenwood portfolio continues to be impressive," noted Mr. Jacob. "Currently, our most active property is Emerald Green, located at 320 West 38th Street, where leases are up for renewals as we've hit the anniversary of the initial lease-up of the property."
"Glenwood's 160 West 62nd Street will be completed in 2014," added Ms. Albert. Glenwood initially bought the parcel of land four years ago for $125 million and planned to build a 54-story, 339-unit rental tower over Lincoln Center with rents starting in the $5,000s for a one-bedroom and $10,500 for a two-bedroom. The company is also slated to start working on 175 West 60th Street, a 257-unit tower expected to start construction soon.
"The summer saw the opening of the Strata at Mercedes House at 550 West 54th Street, Jupiter 21 at 21 East 1st Street and the Nash at 222 East 39th Street," said Mr. Wagner. "There was also an adaptive re-use project—a converted nursing school that is now a luxury rental at 426 West 52nd Street."
"We have The Revere on West 46th Street in Hell's Kitchen coming to the market," said Mr. Menendez. The Revere has one-bedroom and two-bedroom residences starting at $3,375 and $4,945, respectively.
And we bet every one of them has a washer and dryer.