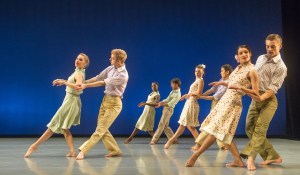 This was the tenth anniversary season of the wildly popular Fall for Dance series at City Center, and it's been one of the best. Which means what? Not that we were treated to 20, (count 'em, 20) dance masterpieces over the course of five programs, obviously an impossibility, but that the outright misfires were few and the points of interest many—just what you hope for when confronted by a smorgasbord.
Things got off to a terrific start. The first item on the first program was Richard Alston's The Devil in the Detail, a piece just as fluent and pleasing as his Roughcut, which FFD brought us two years ago. In Britain, Alston has been a major player for many years, but he's only now beginning to be appreciated on this side of the pond, partly due to his championship by the small but irreplaceable New York Theatre Ballet (whose existence is being threatened by approaching eviction from its headquarters of 34 years—and by a church landlord!) What's outstanding about Alston's work is the combination of rare musicality and endless vibrant invention. He has learned from Ashton, from Balanchine, from Robbins, the last of whom he perhaps most closely resembles. In fact, the current piece can be seen as a distant response to Dances at a Gathering—a piano and 10 dancers who turn up in various combinations and carry us away with their breezy, ingenious proceedings. Two important differences: The composer is Scott Joplin, not Chopin, so the dance emphasis is on jazz, rag, swing rather than waltz, mazurka, etude. And, unlike Dances, the Alston piece doesn't swell; rather, its individual fragments are mostly in the same range and seem to follow in no particular order. It could be longer, it could be shorter; it could be rearranged. So, yes, the Devil—the pleasure—is in the Detail not the whole, but how much pleasure there is!
The rest of Program One followed the standard FFD pattern. After the bang-up opener, a performance by a virtuoso, this one by the celebrated tango dancer Gabriel Missé. Perhaps he's been over-praised, perhaps he's aging, but, although his feet flash with their accustomed fire, he now appears somewhat stubby rather than lithe, and he's not very sexy. Didn't Valentino teach us that the tango is sex? You have to smolder, but there was no smolder between Missé and his partner, Analía Centurión, in Esencia de Tango. As for a brief pas de deux by City Ballet's Justin Peck—The Bright Motion, commissioned by City Center, to music by Mark Dancigers—it was a Sara Mearns op, designed to show off her qualities but not wholly convincing. Her white, tight bathing-suit-like costume didn't give her body the help it needs, and, although the moves certainly demonstrated her capacity, they didn't give rein to her most telling characteristic: her go-for-brokeness. Her partner, Casey Herd, brought nothing but brawn to the table.
Last up: the return of DanceBrazil with Fé do Sertão, yet another of its storms of tempestuous leaping and flailing and hip-hopping and tumbling—happy, kinetically exciting and inconsequential. The name of one of the dancers reflects the naiveté of the entire enterprise: "Kamiklah Shownté Turner (aka Bambi)." When you've seen one of these Brazilian whoop-de-dos, you've seen them all.
Program two led off with the Indian group Nrityagram and a piece called Vibhakta, which we're told demonstrates that "in the union and separation of the male and female principal [sic] lies the secret of all creation." And for all I know, it does. Two wonderful-looking women, in matching gold costumes, represent both principles, and they perform traditional Indian dance movements, including stomping their feet and fluttering their fingers. The on-stage musicians, including vocalists, were highly effective. Then came 605 Collective, a Canadian sextet, with a piece called Selected Play. The men and women—three of each—are in street clothes, the music is danceable if generic, the tone is roughhouse. Nothing happens beyond the ongoing rumble, a lot of in the semi-dark, a lot of it hip-hoppy (again), all of it strongly danced, all of it arbitrary, none of it necessary.
Worst in show: Light Beings, a mercifully brief duet by Mats Ek to Sibelius. Charlotte Broom and Christopher Akrill, who happen to be the co-artistic directors of the presenting company, Headspacedance, are a mature but jokey couple, dressed in what I assume are traditional Swedish costumes. The tone is cute-rhapsodic. Let it pass, so that we can move on to an event of real consequence: the reemergence here of the Dance Theatre of Harlem, now under the directorship of Virginia Johnson. It presented the highly ambitious Gloria (to Poulenc) by Robert Garland, a large-scale and complicated ballet—yes, the women are on pointe—celebrating the spiritual life. It's fresh and vigorous, not portentous, but most significant is that it demonstrates the strength and dedication of the new DTH. These dancers are long-limbed, handsome and robust, their energy clearly revved by determination to see their company prevail. They have talent and leadership; let's hope their financial situation is equally healthy.
Next up, in Program Three, was a modern classic, José Limon's Moor's Pavane his four-character reduction of Othello, from 1949. It's been danced by dozens of companies, this version supplied by the American Ballet Theatre. It boasts glorious music (Purcell), gorgeous costumes and effective, compact storytelling. For the Moor, ABT borrowed Francisco Ruvalcaba from the Limon company. Maybe it will field a Moor of its own when it brings Pavane to the Koch in November. To my surprise, I enjoyed Colin Dunne's Turn, maybe because I'm one of the six people in America who've never seen Riverdance, in which he used to star. Turn is a long stretch of step-dancing—a kind of heavy tap—to an original score by Linda Buckley, performed by a string quartet. Dunne is fast, playful and savvy, although his look is Irish-naïve. Too much amplification, too much repetition, but still he puts on an appealing show.
Ballet Hispanico is far from Irish, and, though it has strong dancers, its Spanishness has always left me unconvinced. Its new piece is called Sombrerisimo, and it features six men and their hats—bowlers, though, not sombreros. Those hats are tossed up and around and passed from guy to guy when the guys aren't busy being Hispanicly sultry. Twyla Tharp did the hat trick once and for all in Push Comes to Shove—witty and surprising. This was neither. Nor was an early effort by Nacho Duato called Sinfonia India—pretty Mexican folkiness. Its score by Carlos Chávez and its populist choreography were a weak reflection of an Aaron Copland-Martha Graham collaboration. Not only was there watered-down Graham, there was watered-down Agnes de Mille from when she was doing watered-down Graham. Why anyone exhumed this feeble oddity is beyond me.
Dorrance Dance kicked off the fourth program with a work called SOUNDspace, calling attention to the crucial importance of SOUND to this ambitious tap event. A dozen tappers, including the genial Michelle Dorrance herself, keep going and going and going, with considerable variation and smarts, and, of course, a lot of amplified sound. They work in a nice balance of small and large groups, and, at one point, when they're all tapping away in their white shoes, the shoes are all you can see as they skitter across the otherwise darkened stage. It's a gimmick, but it's a good gimmick.