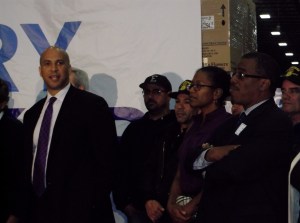 In the Oct. 16 Special Primary for U.S. Senate, Democrat Cory Booker maintains a 45-29% lead over Republican opponent Steve Lonegan among registered voters, according to this morning's Fairleigh Dickinson University PublicMind Poll.
Fifteen percent are following the race "very closely" with another 32 percent who are following it "somewhat closely," the poll finds. When asked if they could provide the names of those running for the Senate, only a third (33%) named both major party candidates, with 23 percent who identified just Booker, and 3 percent who provided only Lonegan's name.
"The historic nature of the oddly timed Senate election makes it difficult to identify who is likely to turn out among registered voters, but these numbers reinforce the uphill battle that Lonegan has in defeating Booker," said Krista Jenkins, director of PublicMind and professor of political science at Fairleigh Dickinson University. "The unresolved government shutdown and looming debt ceiling deadline could also impact the Senate race in unpredictable ways." Jenkins went on to point out that despite the gap, "Lonegan has clearly made some inroads since the last time we asked registered voters the same question. In August, 50 percent favored Booker with 22 favoring Lonegan, or a gap favoring Booker that's been narrowed by twelve points."
Booker and Lonegan have strived to provide contrast on the issues, apparently in vain.
When asked whether each candidate favors or opposes the National Security Agency's domestic surveillance program and greater restrictions on guns and ammunition – two issues the next Senator from New Jersey is likely to face once elected – a majority of voters said they were unsure where each candidate stands on these issues, Jenkins said.
Three-quarters couldn't identify where Booker and Lonegan each stand on the issue of domestic surveillance, and 55 percent don't know where Booker stands on more gun control, with 73 percent unsure of Lonegan's stand on the issue. Uncertainty prevails even among those who say they are following the Senate race "very closely."
"Voters just don't know much about these candidates. This is clear from their uncertainty over what they think each candidate believes about domestic surveillance and gun control, as well as the inability of many voters to identify who's running next week," said Jenkins. "Party identification is clearly standing in as a proxy for voters rather than familiarity with a candidate's issue stands."