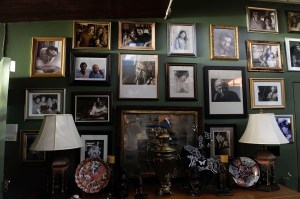 Last week, at a book party for J. Michael Lennon's Norman Mailer: A Double Life, a 900-page authorized biography of the author, who died in 2007, a good deal of literate septuagenarians gathered at Mailer's old home near Pineapple Street in Brooklyn. It was once on the market for $2.5 million but has remained in the Mailer family, just as the old patriarch would have wanted it.
The apartment was charmingly underwhelming—at least for one of the towering figures of 20th-century literature. First, there's the punching bag near the entrance to the bedroom, reminiscent of Mailer's lifetime of amateur boxing—mostly with his friends (and more than a few enemies) at book parties like this one, if it had been transported to 30 or so years in the past. (For contrast, on the wall was a picture of an older Mailer with one of his sons on a boat, the fighter now a humbled family man with his wild times behind him.) There was a spare living room with rows of now-empty book shelves, a small kitchen, a network of ladders leading up to flimsy canopies and, eventually, after going from one landing to the next, the cramped desk in the wooden crow's nest that Mailer had built atop the apartment, the perch still equipped with the fold-up throne where Mailer sat and wrote. A holy temple, essentially.
Down below, the crowd began to swell with Mailer's friends, enemies, collaborators and fellow carousers. Gay Talese came but left on the early side, slipping out unnoticed. There was John Buffalo Mailer, the author's son, along with Michael Mailer, who works as a film producer. Dick Cavett, who moderated Mailer's fight with Gore Vidal on his talk show, looked sprightly despite being 76. Taki Theodoracopulos, the Greek magazine editor and one-time Mailer wingman, slipped around devouring pâté as Lawrence Schiller, who makes a memorable appearance late into Mailer's true-life novel, The Executioner's Song, walked around glad-handing old friends.
After a few minutes of schmoozing, a knife tapped at a glass, and Michael Mailer began to speak. "Mike wrote an extraordinary thing about my dad," he said as a smattering of his brothers, sisters, half-brothers and half-sisters looked on (Mailer was nothing if not productive). "I'm learning things I never knew about him."
Did the organizers of this party still need to learn about Mailer? He probably would have nixed the tiny aquarium of goldfish in the corner. Ditto the elderly women, rarely (though, not never) a Mailer preference, who seemed to be the fete's largest demographic. He certainly would not have approved of the available libations: red wine and white wine and no hard stuff. It was suggested this was deliberate. No one wanted there to be any fights.
"Norman would be very offended about tonight," Mr. Cavett told me.
"And why is that?"
"Because it said the party would go from 6:30 to 8:30!" he said, cackling. "Usually it became dawn!"
It was a house famous for its parties. "I spent a lot of time in the room," Mr. Lennon said of his research for the biography. As if to prove his knowledge of Mailer house trivia, he pointed to the wood beam above us and said, "It's teak."
In the spirit of Mailer, at a certain point I had stopped tallying my wine consumption but still returned to the bar. My friend that came with me (he'd also lost count) chided me for not doing enough reporting for this piece.
"Your stories are all atmosphere, all color without enough quotes," he said.
"That's not true," I said.
He could see I was angry and asked if I wanted to step outside. I nodded, and we climbed a ladder to the first balcony, stepped through a small door onto the roof, the spectacle of Manhattan aglow across the water, and removed our tweed jackets to fight. We set ground rules (no head shots—we had dates later) and started step-hopping, dukes up. I cut a right hook to his mid-chest, ducked fast, but then faltered and let my guard down, inviting a flurry of punches at my left shoulder. Then I jumped back, feigning distress, so when my friend came in for the kill, I sprang forward and connected at his collarbone hard. My hand hurt, and it felt great.
"What the hell are you doing up here?" Michael Mailer said, approaching from the doorway. "Everyone can hear the noise from downstairs."
We quickly mumbled apologies, put our jackets back on, shared a cigarette and a few words of reconciliation and went downstairs to leave the party.
Still a little dinged up, I arrived at the Norman Mailer Center Gala two days later. The annual bash is a lavish affair, sponsored by Van Cleef and Arpels and held at the New York Public Library, and many of the attendees from that night in Brooklyn joined the likes of Calvin Klein, Coco Rocha and Maya Angelou.
As everyone began to sit down for dinner, I saw Michael Mailer, and, before I could turn away, he put a hand on my bruised shoulder and asked about the ruckus we had started at his father's house.
"Were you guys practicing ballet up there or something?" he asked.
I told him my friend called into question my writing abilities and challenged me to a fight. Norman Mailer's son nodded and smiled.
"My dad would have been proud," he said.