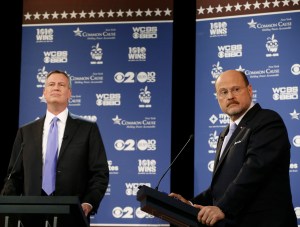 The city's Campaign Finance Board announced tonight that it has postponed the third and final mayoral debate to commemorate the one-year anniversary of Superstorm Sandy.
The 90-minute debate, which had previously been scheduled for Tuesday, October 29, will now be held on Wednesday, October 30, kicking off at 7 p.m.
"New Yorkers will be feeling the impact of Hurricane Sandy and its aftermath for years to come," the board's executive director, Amy Loprest, said in a statement. "The first anniversary of Sandy's landfall can serve to focus this discussion about the future of our city. Out of respect to those who are still rebuilding, we join all New Yorkers in commemorating the storm on Tuesday."
As a result of the change, the debate, which is being co-sponsored by NBC 4 New York, Telemundo Nueva York and The Wall Street Journal, will no longer take place in front of a live studio audience, as had originally been planned.
Democrat Bill de Blasio and Republican Joe Lhota had taken the rare step earlier this evening of releasing a joint statement urging the board to move the debate to commemorate the anniversary.
"Tuesday marks the first anniversary of Superstorm Sandy, a tragic event that took dozens of lives, and caused enormous damage to the homes, businesses and communities of tens of thousands of people in New York City, and across the region. This day should be marked with solemn reflection and remembrance," they said in the statement, arguing that a delay was "the most respectful and appropriate way to honor the memories of those who were lost, and to stand with those who are still struggling to recover."