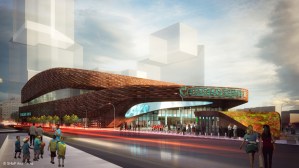 Apparently, $761 million in subsidies and tax breaks isn't enough for Forest City Ratner. The Atlantic Yards developer is thanking the city for its generosity by suing the Department of Finance for a lower tax assessment.
The developer has filed a lawsuit against the Department of Finance, in an attempt to knock down the market value assessment on block 1129, which comprises the southern section of the development site, from $11.2 million to a scant $1.6 million, DNAinfo reported today.
Forest City Ratner is already getting a deal on the parcel in question. The developer is leasing the block, which is owned by the state, for a nominal fee from the Empire State Development Corporation—a PILOT payment of $1 a year. But in the near future, Forest City will be required to make payments in lieu of taxes on the parcel equal to the actual taxes that would otherwise be due—some $700,000 this next year with a $11.2 million assessment, according to DNAinfo.
Audacious, especially given that the developer has yet to deliver on most of the components—the housing towers , the soaring revenues predicted for the Barclays Center, the platform over the "blighted" Vanderbilt Yards—that arguably justified the huge subsidies, tax breaks and use of eminent domain that enabled the project in the first place.
Indeed, the glacial pace of construction at Atlantic Yards, which was expected to be finished as early as 2013, has become a heated issue in the mayoral campaign, with Joe Lhota accusing Bill de Blasio of not doing enough to hold the developer accountable for delays on the affordable housing component.
Forest City, claiming higher-than-expected costs and hard-to-secure financing, despite having turned to cheaper modular construction, has only started work on the first tower. The 2,250 units of affordable housing promised by the developer have yet to be delivered, as does the deck over the rail yards—that blighted 8.5-acre scar that was controversially used to justify the use of eminent domain. Though Chinese developer Greenland taking a majority stake in the project may finally help spur things along.
Nor is this the first time the developer has sued the city for a better deal—last year Forest City filed a lawsuit claiming that the Barclays Center had been overvalued by $600 million, dropping it after a flood of bad publicity.
But they boldly decided to try again this year, unfulfilled promises and public opinion be damned. Forest City told DNAinfo that, "this is a standard operating procedure for these types of companies."
Maybe so, but challenging the tax assessment on an as-of-right project versus one that is already receiving massive subsidies from the public are two very different things. Pressing for an advantage is one thing, pressing for every advantage is another.
NOTE: An earlier version of this story implied that Forest City Ratner would see an immediate benefit from a lowered assessment. According to the ESDC, Forest City Ratner now pays only the nominal $1 PILOT to lease the parcel and will not only PILOT payments equal to the taxes on each parcel "until development on the parcel is complete or 12 years pass, whichever occurs first."