Former Hip hop mogul and current ad exec Steve Stoute has produced albums for Limp Bizkit and Eminem, managed the likes of Mary J. Blige and Nas, partnered with Jay-Z and authored a pseudo memoir on the role of race in modern corporate culture. In short, Mr. Stoute has very little in common with Lee Fensterstock, the high finance captain with the extremely patrician-sounding surname who just purchased his old duplex condo in Tribeca's American Thread Building.
Though, of course, the two share the same taste in sprawling lofts: Mr. Fensterstock, who is currently CEO of the Marco Polo Network, and wife Ann (an art historian and culture writer) paid $7.15 million for the hip hop mogul's former home at 260 West Broadway, according to city records. And we can't say we're surprised: much like Mr. Stoute's rather yuppie breakfast routine—he rises punctually at 9 a.m. to soft-boiled eggs, yogurt parfait, and a green "vibrance power" smoothie with spirulina, raw protein, and almond milk, according to The Wall Street Journal—Tribeca has become equally appealing to creative elites and financial titans.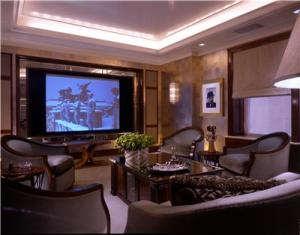 The penthouse duplex, which Mr. Stoute purchased in 2001, combining units on the 10th and 11th floors, boasts three bedrooms, two wood-burning fireplaces, a spacious media room spread through 3,580 square feet. Nonetheless, the property has had something of a troubled history. Five years after moving in, Mr. Stoute listed the home with Corcoran for $12.25 million, dropping his price after eight months by $2.5 million, before shifting to the Modlin Group in 2010, where Adam Modlin knocked down Mr. Stoute's asking price even further to $9.5 million.
If only Mr. Stoute had had the foresight to buy neighboring penthouse 11A when it was on offer for a mere $7.3 million in 2006! That condo, which sports a skylight-crowned rotunda used during the 1970s as a performance space by Cirque du Soleil forerunner Multigravitational Aerodance, entered contract in August for $11.5 million. The building, a picturesque affair of graceful brick curvatures, has a variously storied history; it was conceived in the 1890s as the headquarters for a—failed—hostile takeover of the wool trade from Boston.
Fortunately, the home's somewhat stodgy comforts, like the "gracious foyer with mahogany wood paneling" should be more than sufficient to ease the Fensterstocks' transition from Westchester—on the deed, the Fensterstocks list their address as the tiny, bucolic town of Pound Ridge. Even if they only use this place as a weekend getaway. With luck, the Rockafella associate with the bourgeois palate won't move far, and they can all three of them do brunch. Bubby's, anyone?