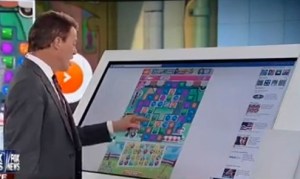 Usually when we are slacking off at work, we try to be surreptitious about it. You know, Words with Friends on our iPhones under the desk and so forth. Not so Shepard Smith, who is using his position as FOX (FOXA) News's Relevancy Expert ("Keeping our thin rope to reality from severing completely and launching us into orbit!" is, we believe, the tagline of his show,) to use the brand new high tech room and its bizarre, gigantic Windows tablets to show the world how much he loves the addicting app Candy Crush. For five minutes.

[youtube=http://www.youtube.com/watch?v=jTqb-atGtQE&w=420&h=315]
We would like to say that Mr. Smith's gameplaying represents a gigantic waste of company equipment, but come on. What else are you going to use those things for? Angry Birds?