We met with Foursquare founder Dennis Crowley in the sunny and cheerily decorated Foursquare offices in SoHo in September. As we sat around a table in a freshly built conference room (Crowley told us it had been finished only days before the interview), we asked him about the moment he knew that Foursquare was going to work.
[protected-iframe id="08615c46b138df5599f58b3625b5123e-35584880-53155743″ info="http://embed.newslook.com/newslook_iframe_embed/7cd03dfb" width="635″ height="358″ frameborder="0″]
"[It's] February or March of 2009 and [Foursquare co-founder Naveen Selvadurai] and I are working at my kitchen table…and we left to go to a birthday party that was at a place called the East Village Tavern," Crowley remembered. "And as we were going, you know, there were, like, twenty people using Foursquare at the time, and as we checked in to the place on a very early version of Foursquare…a message popped up that [read], 'Oh, since you're at East Village Tavern make sure to ask the bartender to give you the secret stout beer that he keeps below the bar in the fridge.' And that was the first moment that I was like holy cow, this thing is going to be awesome."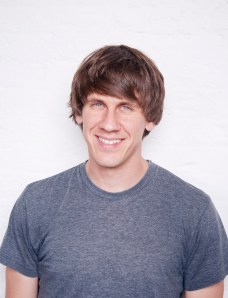 Of course, there were a few years that elapsed between that "Aha!" moment and the new software developments that are transforming the way Foursquare will be used. As Crowley put it, "On my way [to the bar in 2009] I had to take Foursquare out of my pocket, and I had to open the app and check in and the right message had to pop up. It's awesome that it worked then but it [required] a lot of work to tease that story out of the app." From then on, the goal became "to build that version of Foursquare that you don't have to think about using, the one that nudges you when something cool is going on."
In addition to being located in the center of the original Silicon Alley on Broadway in SoHo, being a stone's throw away from innumerable shops, bars and cafés has made it an ideal testing ground for new Foursquare features. A few weeks before we met him, Crowley explained, his development team made a breakthrough.
"The only way to test this stuff is to go out and walk," Crowley said. "So I left, and I went down to this bakery…I was there for about two minutes and the phone buzzed me and it [said] 'At this place, people all talk about 'iced coffee', 'Oreo cheesecake' and 'dreaming princess.' So I was like, what the hell is 'dreaming princess'? Finally in the corner I saw this one little lonely cake with a Barbie doll stuck in it, and it was called the Dreaming Princess cake."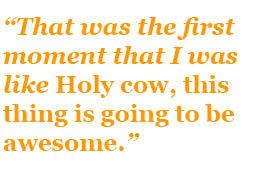 Not only did Crowley get the kind of recommendation that would take several steps to get to in earlier versions of the app, it influenced his behavior as a customer.
"I went and I bought the cake and I [brought] it back to the meeting that I had," Crowley said, "And I [said to the people in the meeting], you know, 'You'll never believe it — I just walked into the bakery and for the first time Foursquare woke up without me doing anything and…told me that this is the thing that people talk about, and I went, and bought it, and brought it back,' and people thought it was awesome. And it was just that [kind of] cool moment where it [felt] like, this is the stuff that we've been talking about for ten years, and we finally built the company that makes the products that [make] the data work, so that we're able to build this thing that is smart enough to know where you are and give you these little insights about places."
Crowley and Foursquare's patience in developing this breakthrough stands out in an oversaturated startup climate.
"You lose track of time doing this stuff," Crowley told us. "I had friends of mine from high school who were in town and I showed them around the office, and my parents came down and I showed them the office and they were like 'Wow, this is a big deal'… but it happens a little piece at a time. We've celebrated these moments [like] the first time that we moved out of my apartment and we had an office at 36 Cooper [Square] — [where] we have an office and I have a key and I can go into my office any time I want."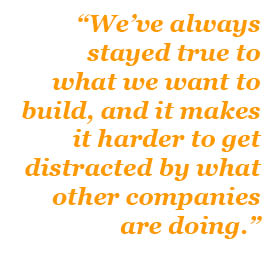 "Then [there's the moment] when you have too many employees and not enough desks…I remember very specifically the first time that we moved from the floor that we were on to [a bigger] floor, and [we're thinking], We're never going to fill this [space] up, and then fourteen months later we literally can't fit any more people in the building. Because you're in the thick of it all the time you lose…awareness of how much is happening and how much we've actually built."
That focus has had its benefits, especially with healthy competition from services like Yelp. Of those, Crowley says "We've always stayed true to what we want to build, and it makes it harder to get distracted by what other companies are doing."
As for what's on the horizon for Foursquare, the breakthrough in user experience exemplified by the dreaming princess cake is also accompanied by new developments for vendors as well. This month, the company announced that Foursquare Ads would be open to businesses of all sizes, allowing the 1.5 million small businesses already registered on the site to create their own promotions.
In turn, Crowley told us, Foursquare will be able to show those business owners "[For example], you spent $200 and we were able to drive 65 customers [to your business] that have never been [there] before," he said. "Those are really powerful tools that have never existed before, and here we are: we get to invent them and roll them out to more than a million merchants." With mobile advertising technology ascendant and a crop of nascent startups hankering for a piece of the pie, this development represents a big push by Foursquare to become a major player in the mobile ad space.
Though a frequently used buzzword in tech is "gamification," Crowley prefers to describe the new features differently. "When I checked in [in 2009] and [Foursquare] told me to get that special beer in the secret fridge that only the bartender had access to, that's an awesome 'surprise and delight' moment," Crowley said. "All people in tech use that [phrase], 'surprise and delight,' where you check in and you get this little nugget that is going to change the way you experience that place. I really like this idea of software that encourages you to do things that you normally wouldn't do or software that challenges you to do things that you normally wouldn't do."
Despite these breakthroughs, Crowley isn't sure if Foursquare will ever be "finished."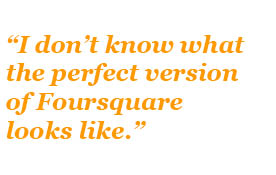 "I don't know what the perfect version of Foursquare looks like," he said. "I know we're not there and I know what it's supposed to feel like, I can imagine what it's supposed to feel like, and I can imagine all the incremental things it's going to take to get there…[but] I don't know if there's a finish line."
Also on the horizon when we spoke was Crowley's wedding to fiancé Chelsa Skees (the two were married on October 19th in New York). Fitting for two tech-savvy people  —Skees is an editorial and strategy director at Bobbi Brown Cosmetics — the couple's courtship was made possible with some help from social media. As The New York Times reported in their wedding announcement, Skees caught Crowley's eye in several friends' photographs on Flickr before they ever met face to face. When we spoke with Crowley, however, the wedding was still a few weeks away. We couldn't resist asking him which was the more nerve-wracking undertaking: launching a company, or planning a wedding?
"They are both a lot of work," Crowley admitted. "When you put one on top of the other — you have to manage a company, and make sure the wedding invitations get sent out, and you [also have to] go to San Francisco this week, [but] you have to make sure that you're in town to go to [a] tasting [for the wedding in New York], that's where things get really complicated."
"But we got four weeks to go, [and] a lot of the pieces are in place, and I think it's going to happen," he told us. "I think it's going to work."