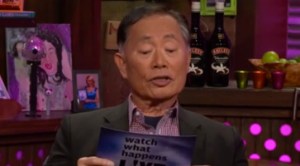 After some minor prodding by Andy Cohen and a very porno soundtrack, actor George Takei read his favorite bit of Star Trek erotica on last night's Watch What Happens Live. We guess Bryan Cranston has started a trend?

[youtube=http://www.youtube.com/watch?v=bMgC3OyBozE&w=420&h=315]
We don't know we keep circling back to Breaking Bad, but this is some of the best Star Trek fan fiction since Badger's Enterprise pie-eating contest.