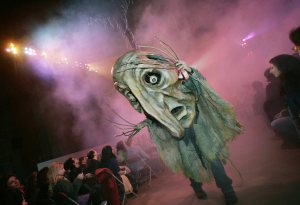 Backstage at the Cathedral of St. John the Divine, before the Procession of the Ghouls, an actor balanced horns and a snout atop his costume's red velvet potbelly. Without his striking hand-sculpted mask, he had white hair and smiling eyes. With it, he transformed into a devil.
The mask was one of dozens in Friday's pageant made by Ralph Lee, the mask-making star of New York's theater scene who also directs the annual spook parade, which punctuates a screening of the 1920 silent film The Cabinet of Dr. Caligari.
"Keep your gestures broad and strong, no matter what sort of character you are," Mr. Lee explained to his cast of ghouls. "This is an enormous space."
Indeed, the cathedral—the fourth largest Christian church in the world—is so imposing it practically bellows. A red-lit fog fuzzed out the high Gothic revival ceilings. Near the front doors, a lonely skeleton played the cello, while Peter Pan worked will call and a sexy Ghostbuster ripped tickets.
David Altman, a veteran performer, yanked at his mask to adjust the fit. It was an oversize head with big puffy cheeks. Mr. Lee repurposes many of his masks for different productions—this one was once a Stone Age god.
"I think someone should nominate Ralph for a MacArthur Genius Grant," Mr. Altman told the Transom. The mask was about three times the size of his head, with features no less detailed than a human face.
"Performing in a mask is empowering," Mr. Altman continued. "I mean, if it's a crappy mask, meh. But if you respect a mask, and go where it needs you to go, it amplifies everything."
With about 20 minutes to go, Mr. Lee posed for a snapshot with five matching demons and then gave a quick pep talk.
"If you're in the house watching the film, start lining up for the pageant when you hear the word 'somnambulist,'" he said.
Of course, nobody would hear the word; they'd read it. It was a silent film.
We were back in our seat just in time for Caligari's famous twist ending. Brave youngsters in the audience were razor-stiff with suspense—and then came the ghouls!
One by one, the masked creatures made their way down the aisle. One sillier monster snuck up behind a tiny Teletubby, who giggled so hard her curls shook. When time came for the grand finale, a giant waving skeleton dropped from the rafters, swinging wall to wall via invisible rope.
"Whoa!" a pint-size Batman said, elbowing an equally diminutive cowboy. "Is that skeleton guy really floating?!"
Even a superhero knows magic when he sees it.