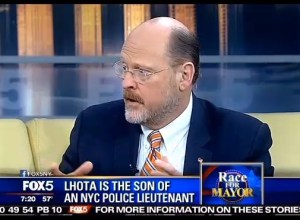 He remains nearly 40 points behind in the polls, but Joe Lhota keeps on swinging.
During a post-debate appearance this morning on a local radio show, the Republican mayoral candidate attacked his Democratic rival, Bill de Blasio, and once again railed against former Mayor David Dinkins, accusing the pair of divisive racial thinking.
"David Dinkins's administration was a horror. It was a period of time in the City of New York that we don't even like to think back to," said Mr. Lhota during an appearance on 970 AM's Curtis Sliwa Show.
Mr. Sliwa, who recently welcomed Mr. Dinkins as a guest, had mentioned that, in his new book, the former mayor claims that "the white horde of Staten Island caused him to lose" his bid for a second term to Mr. Lhota's former boss, Rudy Giuliani.
"David Dinkins is delusional. His book of full of things that makes no sense," responded Mr. Lhota, who has spent a great deal of time on the trail trying to tie Mr. Dinkins and Mr. de Blasio. "When he says the white hordes in Staten Island are the reason why he left, why don't you call him out for race baiting? What he's doing is he's racially profiling. David Dinkins needs to be taken to task for isolating one group of people against another."
"Bill de Blasio is absolutely no different than David Dinkins, wants to divide us between black and white, rich and poor," Mr. Lhota charged.
Mr. Lhota was also asked whether his former boss–whom he described as "an international businessman"–was planning to join him on the campaign trail during the race's final stretch. Mr. Giuliani campaigned often for Mr. Lhota during the primary, but has been absent since Mr. Lhota secured the Republican nomination.
"You'll see him tomorrow. Maybe," responded Mr. Lhota awkwardly, prompting a "What do you mean, 'maybe'?" from Mr. Sliwa. "No, you'll see him tomorrow," assured Mr. Lhota. "He and I have plans tomorrow to be together, so don't worry about it. You'll see him. We're gonna have a great weekend together."
And despite his prospects looking grim, Mr. Lhota said he's still confident in his chances on Election Day.
"I am very comfortable about what's gonna happen on Tuesday night," he said earlier on Fox 5's Good Day New York. "I'm gonna work all weekend long, getting my message out there, making sure that the people realize that I'm the real thing and he's a phony,"