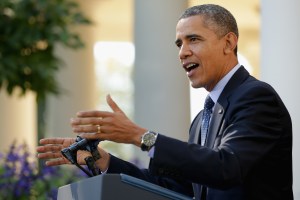 The rocky launch of President Barack Obama's signature health care law may be generating front-page headlines and criticisms from all corners, but Mayor Michael Bloomberg thinks everyone should wait before judging.
In his experience, Mr. Bloomberg said, all technological systems are bound to have glitches.
"Something is wrong and we gotta do something about it and the president is trying to do something about it," argued the mayor.  "But all I hear is criticism … If you have creative solutions to making something better, stand up—let's at least give it a try."
Mr. Bloomberg went on to compare the Affordable Health Care Act's roll-out–which has drawn so much heat that Mr. Obama was forced to hold a press conference this morning to defend it–to his restructuring of the city's 911-call and payroll systems. CityTime, the payroll modernization project, was plagued by hundreds of millions of dollars of fraud, while the 911-call system has been marred by cost over-runs and malfunctions. But the mayor argued things eventually worked out.
"In terms of the implementation I don't know of any, any big software project that doesn't have glitches," he said. "Take a look at the 911 system here—papers full of criticisms, where's the criticisms lately? It works. Where there some glitches when you put it in? Sure. There were glitches when you put it in. But it works. When's the last time you heard criticism of CityTime? There we had some corruption. But … we fixed it, we sued, we got most of the money back and then some–and it is a system that will carry this city going forward."
Fundamentally, Mr. Bloomberg said everyone should just relax a little.
"My answer is cut 'em a break. Would they have loved to put it in seamlessly?" he asked. "Yes."
"Is it a good plan?" he asked himself again. "The only way you're gonna find that out is if you give it a chance to work."