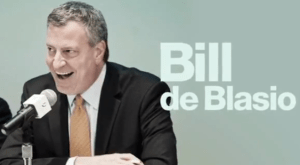 "Get out of New York," Glenn Beck warned his audience yesterday. "Why? Because of who the next mayor is going to be."
Mr. Beck, the outspoken conservative who now has a program on TheBlaze TV, made clear he is very concerned about Bill de Blasio, the Democratic front-runner in this year's mayoral race.
Mr. Beck held little back in the segment. He raged against Mr. de Blasio's past support for the leftist Sandinista regime in Nicaragua and suggested an Anthony Weiner-related conspiracy designed to distract the public from Mr. de Blasio, whom he labeled a "Marxist communist with a history of supporting terrorism"–with dramatic music playing all the while.
"He believes this country as it was founded is rotten to its core, saying, quote, 'The government should be doing a lot more to helping low income workers and maintain higher tax rates.' Unquote. This is not coming from me or The Blaze. This is coming from The New York Times," Mr. Beck said during the show, which was flagged by Gothamist this morning.
Mr. de Blasio's campaign did not immediately return a request for comment on the inflammatory accusations.
Watch below:
[youtube=http://www.youtube.com/watch?v=IIRdonFjGCg&w=420&h=315]