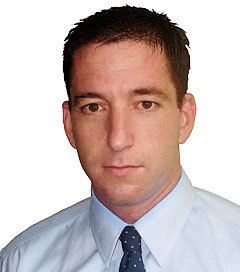 Glenn Greenwald is leaving The Guardian for "a brand new, large-scale, broadly-focused media outlet," reports BuzzFeed.
Mr. Greenwald was traffic gold for the British newspaper after the lawyer/blogger/columnist published about American and British domestic spying on citizens. "My partnership with the Guardian has been extremely fruitful and fulfilling: I have high regard for the editors and journalists with whom I worked and am incredibly proud of what we achieved," Mr. Greenwald told BuzzFeed in an email (and then posted his statement and a statement from The Guardian on his blog). "The decision to leave was not an easy one, but I was presented with a once-in-a-career dream journalistic opportunity that no journalist could possibly decline."
Mr. Greenwald wouldn't say where he is going but said that it will be "a general media outlet and news site — it's going to have sports and entertainment and features. I'm working on the whole thing but the political journalism unit is my focus" and has "hired a fair number of people already,"
Also, although he will continue to live in Rio de Janeiro, Brazil, (and bring some staff over), he said that the new organization's main hubs will be New York City, Washington, D.C., and San Francisco.
So start the guessing games!
"Because this news leaked before we were prepared to announce it, I'm not yet able to provide any details of this momentous new venture, but it will be unveiled very shortly," Mr. Greenwald wrote in his statement.
Considering that a lot of Mr. Greenwald's claim to fame comes from publishing leaks about the classified information from the government, one would really think that he would be prepared for leaks about media outlets.