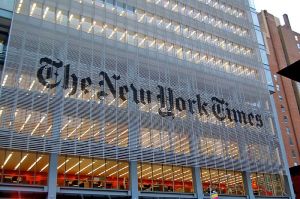 There was a time when a journalist fortunate enough to land at The New York Times would only leave if he or she was forced out, incentivized with a lucrative buyout or dead. 
Not anymore. Two high-profile exits are the latest in a handful of defections this year that hint at a sea change: in the digital era, a Times job can be seen as a career stepping stone rather than as a de facto end point.
Styles section scribe Eric Wilson announced last week that he was leaving for InStyle, where the eight-year Times vet will take on the newly created position of fashion news director for a glossy shopping mag not known for news coverage.
"I wanted to figure out what would make sense for the rest of my career," Mr. Wilson told Women's Wear Daily. "When I talked to [InStyle EIC Ariel Foxman] about this, what he had in mind for the position and what I had in mind for my career were the same."
Apparently, Mr. Wilson didn't see a Times retirement party in his distant future.
And then on Monday, Times tech writer David Pogue announced on his Tumblr that, after 13 years, he is going to work for Yahoo.
"It's not easy leaving the Times, especially when you admire it as much as I do… I'll always be a loyal ally," Mr. Pogue wrote on his Tumblr.
Admire it he may, but the lure of a tech company expanding content proved irresistible to Mr. Pogue, whose Times tenure was dogged by rumors of cozy relationships with companies he covered.
Mr. Pogue wrote that he was swayed by what he called CEO Marissa Mayer's "'try stuff' atmosphere" at what she calls "the world's biggest start-up."
Not everyone goes on to (presumably) a bigger, better deal. Back in June, high-end real estate reporter Alexei Barrionuevo left the Times to pursue a documentary project on the origins of electronic dance music and the rise of superstar deejays.
"Like many writers at the paper, given the challenges facing newspapers (including the Times) I was having a hard time seeing a 20-year career ahead filled with professional and financial growth," Mr. Barrionuevo told OTR at the time.
And of course, super-star statistician Nate Silver took his blog and his brand to ESPN in September, when his three-year contract with the Times ran out.
Statistically speaking, it wasn't a bad move.