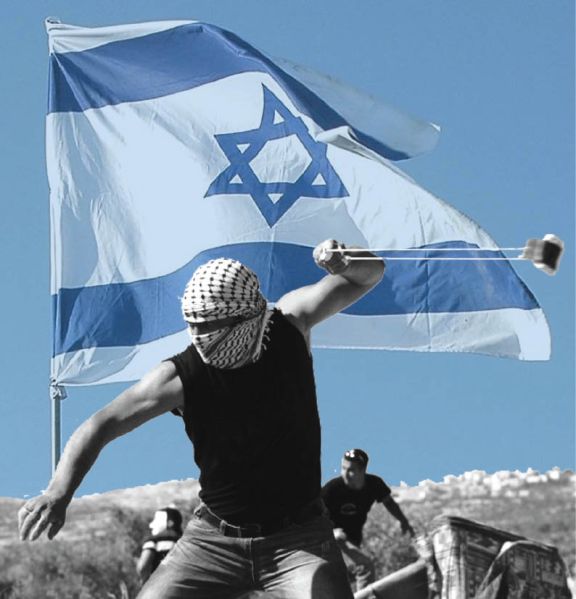 There's a rumble in Brooklyn. Max Blumenthal's book Goliath: Life and Loathing in Greater Israel snagged the equivalent of a lefty book award when a Wall Street Journal editor announced he was tossing it in the trash can. Then big-brand liberal Eric Alterman, who should be Max's fellow traveler, called Mr. Blumenthal naïve and juvenile and nominated his book to the "Hamas Book of the Month Club."
Mr. Blumenthal, son of Clinton White House fixture Sidney Blumenthal, is a young, feisty journalist who has investigated the Republicans and the Christian right. He spent the last four years assembling a scathing critique of the Jewish State. It isn't pretty, but it is pretty accurate. Anyone who has worked in the Holy Land has encountered the barbed wire, checkpoints, baby-faced guards with fingers twitching on Uzi triggers, the fire-eyed fanatics around Hebron and Nablus and the ultra-religious in Jerusalem who won't shake the female hand.
But Mr. Blumenthal is especially insightful about the secular, progressive Israeli enablers of all the above, for whom Arabs exist behind a cloak of invisibility, a state Blumenthal calls Israeli myopia. To witness this phenomenon is to enter a magical universe. Last year, my husband and I spent a night at a kibbutz in the Jezreel Valley. After the sun set, clusters of lights came on, dotting the surrounding hills, and they were clearly small villages. When we asked our perfectly nice middle-aged Zionist hostess about that the next morning, she insisted the hills were uninhabited.
A few weeks on this eyes-wide-open tour of Israel is enough to induce outrage, and that's where Mr. Blumenthal stands. In Goliath, Blumenthal travels from Israel's extreme right to the progressive left and, in 73 short, anecdotal chapters, paints a picture of a nation that calls itself a democracy while pushing that notion to the breaking point.
Mr. Blumenthal has courage, and Mr. Alterman should give him more credit for it. In America, anyone—left, right or center—who criticizes Israel risks the anti-Semite stain. Secretary of Defense Chuck Hagel barely survived nomination for some mild chastising of the Jewish State. In too many pro-Israel quarters, there's no difference between professors who analyze the activities of the American Israel Public Affairs Committee and Mel Gibson.
Supporters of Israel should be encouraged to read this book. It's a journalist's view of the country, and, if it seems one-sided, it balances the sanitized tour the Israeli government offers gratis to young American Jews. As Israel's greatest supporters, American Jews who care at all about the future of the country need to understand what's happening within the borders.
But Mr. Alterman is right on one thing: Mr. Blumenthal is naive about the Islamists. Based on his tweets and articles on Egypt and the Muslim Brotherhood, he has staked out a spot on the Venn diagram of Middle East commentators where anti-Israel meets pro-Islamist. He wants to believe theocrats are an improvement over brutal dictators.
***
I can't find anything in Mr. Blumenthal's reporting or commentary to indicate he is much troubled by rebels who dream of the once and future caliphate and imposing Shariah law.
In 2010, Mr. Blumenthal penned a long article for The Nation headlined "The Great Islamophobic Crusade" about the "cabal" he said is behind surging American Islamophobia. He profiled the usual suspects—neocons Daniel Pipes, David Horowitz and the cartoonish Pamela Geller (who happens to be the former publisher of The New York Observer.) In the same piece, Mr. Blumenthal sympathized with the problems the men behind the Islamic Society of Boston were having building their center. (They have since completed it.)
Mr. Blumenthal failed to note, if he knew, that the ISB is operated by the Muslim American Society, which has been identified by federal prosecutors as a front for the Muslim Brotherhood. One of the Boston group's original trustees was Yusuf al-Qaradawi, a Muslim Brotherhood spiritual leader who publicly urges Muslims to kill homosexuals and Jews.
One of the ISB's imams is an American covert named Suhaib Webb, who headlined a fundraiser with the late al Qaeda operative Anwar al-Awlaki, two days before 9/11. Among the ISB's notorious worshippers were the Brothers Tsarnaev.
Islamophobia is one thing. Islamist-phobia is quite another. Mr. Blumenthal can publish books exposing Israel's dark side forever, but jihadists still want to chop off his head in the back alleys of Mogadishu, Karachi or Damascus. Why? Because he's an American and a Jew.
Mr. Blumenthal visited Egypt, but he hasn't seen enough of the region. If he had, he might appreciate why many Egyptians rejoiced at the military takeover this summer, its shutdown of the Brotherhood and a proposed constitution banning religious political parties.
Mr. Blumenthal should spend the next four years in Saudi Arabia, which has been spending billions building extremist mosques and networks globally since before Mr. Blumenthal was born. He will need a second passport without the Israeli stamp to do it, but he should put in some time in countries where blasphemers are jailed (or worse), free speech is nonexistent and women live like chattel under the odious Shariah laws—all supported by our petrodollars.
Islamist extremism absolutely does not excuse the ugliness Mr. Blumenthal witnessed in Israel, but the same jihadis who use the suffering of the Palestinians as a rallying cry would be just as fervent without that cause.
***
The Islamists have copied Israel's PR manual. They have learned good lessons about silencing critics from the way Israel and its supporters historically employed the dreaded anti-Semitism label. Criticize friends of the Islamists today in America, and get an earful about bigotry and racism. In Europe, critics routinely get sued—successfully—for hate speech.
Where is the progressive writer who will brave the "Islamophobia" label and take a hard look at the movement's anti-democratic tendencies, homophobia, medieval misogyny?
Mr. Blumenthal won't step over that line, because, in his set, to do so is to stand with Pam Geller and the Koran burners in Florida. Inside the salons and universities at the heart of the American liberal establishment—Mr. Blumenthal's natural habitat—progressives accommodate radical Islam as a badge of tolerance. The ISB's Imam Webb, for example, is now a counselor at the Harvard Divinity School.
Israel absolutely deserves Mr. Blumenthal's criticism. So do the anti-democratic, homophobic, misogynistic and anti-Semitic Islamists who run the Brotherhood, rule the Gulf States and whose influence is far and wide in the region.
Unless writers like Mr. Blumenthal are willing to take on those Islamists as well, those who stand to benefit most from an intelligent critique of Israel won't likely listen.