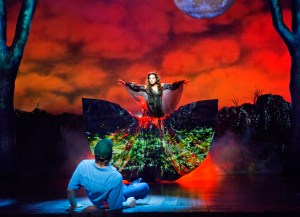 It's surprising, when you think about it, that it has taken this long for Big Fish to become a Broadway musical. The Great White Way is lately, as is so regularly bemoaned, filled with movie-to-stage transfers, and this particular movie—first a novel, by Daniel Wallace, then the Tim Burton film—seems such a good fit. Big Fish is a celebration of the transformative power of inventive storytelling, and the musical is an art form that celebrates, that's even predicated upon, the transformative powers of stories, singing and dancing. The good news is that this obvious match works. In the hands of some incomparably talented theater artists—most notably Susan Stroman, the director and choreographer, and Norbert Leo Butz, her slyly captivating leading man—Big Fish, which opened Sunday night at the Neil Simon Theatre, leaves you thoroughly, happily hooked.
The story is a simple one. Edward Bloom (Mr. Butz) is a small-town Louisiana charmer, a traveling salesman with a valise full of tall tales. His wife, Sandra (Kate Baldwin), is smitten and dutiful; their son, Will (Bobby Steggert as an adult; Zachary Unger, at the performance I saw, as a boy), is a humorless stick-in-the-mud who resents his dad's overwhelming personality and is convinced there's some dark truth hiding behind all of those stories. When Dad starts dying—conveniently just after Will's wedding and while Will's wife, Josephine (Krystal Joy Brown), is pregnant—the son returns home and, amid worrying about Dad's health and Mom's finances, decides to find out the truth of his father's life. There is, unsurprisingly but also entirely winningly, a happy ending, in which Will realizes his dad's only secrets were good ones and that all of his stories had at least some basis in truth. By the final moments, I was tearing up.
As recounted in capsule, I'll grant, the uplift of this inspirational tale sounds overwhelmingly Oprish. But the great accomplishment of this production is that it doesn't descend into treacle. It's fun, it's energetic, it's inventive, and it's earnest and even moving, without being oversweet. The book is by John August, who also wrote the movie, and the music and lyrics are by Andrew Lippa, who provides a sometimes rootsy, sometimes brassy score that's good enough but not memorably great. But the real expert at work here is Ms. Stroman, who, with her bells-and-whistles design team, keeps the proceedings airy and light and provides a steady stream of smile-inducing moments—elephants doing a soft-shoe, a dancer becoming a campfire, the huge expanse of daffodils that overtakes the stage. (The scene design is by Julian Crouch, the costumes by William Ivey Long, the lights by Donald Holder and the projections by Benjamin Pearcy for 59 Productions.)
Ms. Stroman's true stroke of genius was casting Mr. Butz in the lead. The two-time Tony winner is a charismatic performer, a fine actor and a funny, fleet-footed song-and-dance man, but, most of all, he has a born huckster's winking charm. His classic role is as a con men—Freddy in Dirty Rotten Scoundrels—and, more than anything else, it's his knowing, gleeful smarm, his inability to be saccharine without also telegraphing an ingratiating self-awareness of his own bullshit, that makes this show. You have to believe that you shouldn't quite believe Eddie Bloom—and there's no one you can believe not believing like Mr. Butz. His slight ironic remove is what keeps Big Fish from turning into a Hallmark special.
The other leading players are excellent, especially Mr. Unger as Young Will, who manages the rare feat for a child actor of seeming neither flat nor actory but just like a normal, likeable kid. (Anthony Pierini plays that role at matinees.) I've never been sold on Mr. Steggert as an up-and-coming great star; he has a pretty voice and a pretty face but has always struck me as a dull, square performer. Here, though, that dull squareness is key to his character and helps ground the often-fantastical story. If the songs are somewhat disappointing, Ms. Stroman nevertheless works her magic in the big production numbers, gleeful extravaganzas to match Bloom's over-the-top stories.
By the end of this show, Will has come to appreciate his father and how his stories allowed an everyday guy to imagine, at least for a little while, an extraordinary life for himself and for his son—how they accomplished, in other words, what we hope for each time we enter a theater.
First there was Lombardi, the Vince Lombardi bio-play, of some real ambition, produced in conjunction with the NFL. Next came Magic/Bird, a lazy, essentially drama-free celebration of the great 1980s basketball rivalry, produced in conjunction with the NBA. Now the same crew—producers Fran Kirmser and Tony Ponturo, and writer Eric Simonson, who this time directs, too—has brought the formula to Bronx Bombers, a celebration of the New York Yankees produced with Major League Baseball and the Yankees organization. It opened Monday night in a Primary Stages production off Broadway at the Duke on 42nd Street, and I can report that the older gentleman in a Yankees windbreaker and cap who was sitting in my seat when I arrived seemed to enjoy himself very much.
The first act takes place in a Boston hotel room on the morning after the famous Billy Martin-Reggie Jackson blowup at Fenway Park. It's the Bronx Zoo era, when the team, and the city, seem to be on constant verge of conflagration, and Yogi Berra (the estimable, unfortunate Richard Topol) is trying to make peace between the manager (Keith Nobbs) and the star outfielder (Francois Battiste), with the reluctant help of captain Thurman Munson (Bill Dawes), who makes many mentions of his airplane. It's a long but compelling scene, because there is actual tension and stakes. If there's also an awful lot of inartful exposition—Munson and those planes!—it's a smart bit of writing to make Berra the center of the play; the aphorisms just keep on coming.