When one thinks of Bertolt Brecht, one doesn't typically think of a rollicking good time. But the Foundry Theatre's take on Brecht's Good Person of Szechwan, which played at La Mama early this year and opened last night at the Public Theater, is a thoroughly entertaining romp.
That's thanks to director Lear DeBessonet's let's-put-on-a-show low-fi staging and her game cast's high-spirited deadpan mugging, which combine to make this relatively long evening (about two and three-quarters hours, though the ushers will tell you two and a half) fly by. It's also thanks to the funny but deeply grounded and tenderly human performance at the center of the show, by the drag performer Taylor Mac, who portrays both the good-hearted young prostitute Shen Te, a woman, and the alter ego she concocts to protect herself, the stern, male cousin Shui Ta.
The audience enters to find a bluegrassy quartet playing in a front corner of the stage. They'll move to the back when the play starts, and their music will reappear throughout the show, not entirely unlike Nellie McKay's role in the spring's Old Hats. (The musicians are Lorenzo Wolff, Ben Simon and Eric Farber; the singer is Sammy Tunis; and the music is by César Alvarez with the Lisps.) When the curtain goes up, on a set of cardboard-miniature shacks that represents the city of Sichuan, we're welcomed by Wang the Waterseller (a charming, clowning David Turner), who has had a forewarning of three gods coming to town and is waiting to meet them.
Sure enough, the gods arrive, three women of a certain age (Vinie Burrows, Mia Katigbak and Mary Shultz) in all-white ensembles. They're on the hunt to find just one good person in the world, one person who lives according to their rules, and so far they've had no luck. They're weary and need a place to sleep, but as Wang approaches different houses looking for a host, each person rejects him: too crowded, too busy, not interested. Only one person is happy to host the gods, Shen Te, who turns away a client to accommodate them. The next morning, as a thank you, the gods give Shen Te some money, which she uses to buy a tobacconist's shop. She is now a legitimate small businesswoman.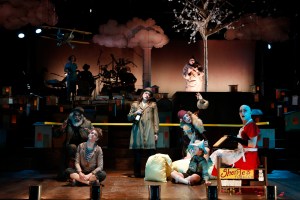 Soon enough, though, all the poor people in town are taking advantage of her, from her needling landlady, Mrs. Mi Tzu (played with sleazy relish by Lisa Kron, who also wrote the book and lyrics for Fun Home, playing elsewhere at the Public), to various old acquaintances and neighbors. Unable to say "no"—giving away food, taking in people who need a place to sleep—Shen Te's good fortune is now threatening to tear apart her precarious life. And so she creates the persona of her cousin, coming in to handle things while she's allegedly on a trip. Shui Ta wears a pin-striped suit, a bowler hat and an exaggerated fake moustache, and he quickly puts things in order, taking command where good-natured Shen Te was unable to speak up.
And so it continues, sweet Shen Te being taken advantage of, stern Shui Ta appearing periodically to set things right. But as things get worse and worse—Shen Te falls in love with, and is impregnated by, a handsome pilot (Clifton Duncan) who's only interested in her money—Shui Ta returns and stays for a while, building Shen Ta's small shop into a thriving tobacco factory. When the townspeople have Shui Ta arrested, believing he has kidnapped or killed Shen Te, it is the gods who appear in place of the local judge. With the courtroom cleared, Shui Ta confesses her true identity—and begs the gods to change the rules, to make it possible for her to be a good person without also needing to be a bad one.
The judges refuse—though they do allow that it's O.K. for Shui Ta to come visit, just not too often. ("Once a month, that will be enough" is their exit line.) And then the play, Brechtianly, turns the question to us, in the audience: "What is your answer? Nothing's been arranged. Should men be better? Should the world be changed?"
It's a good question, capping off a very good Good Person.
Dr. Ruth Westheimer, the grandmotherly sex therapist, is, as my grandmother would have said, a pip. Frank, funny and irrepressible, she has also had a remarkable life: Born Jewish in Germany in 1928, she was evacuated to Switzerland in the Kindertransport and lost her family to the death camps. After immigrating to Palestine, she was a sniper for the Haganah, the Jewish paramilitaries in pre-state Israel. She studied psychology in Paris, arrived in New York in 1956 and earned a master's at the New School and a doctorate at Columbia. She has had three husbands, two children, four grandchildren, global fame and the same Washington Heights apartment for decades.
Becoming Dr. Ruth, a dutiful one-woman bioplay that opened upstairs at the Westside Theatre last night, succeeds only because its subject's life and personality are so compelling and because Debra Jo Rupp is so warmly ingratiating in the role. Dramatically, it's a dud.
With a script by Mark St. Germain and directed by Julianne Boyd, Becoming Dr. Ruth brings us into that Washington Heights apartment one day in 1997, several months after the death of Dr. Ruth's third husband and "love of my life," Fred Westheimer. She's packing up to move (by the end of the play, she'll decide to stay put) and fielding phone calls, from her kids, from her publicist and from her mover and his grandmother, who both need sex advice. In what I'll generously call a Brechtian device, she talks to the audience as though we're guests in her home. ("I have company," she says excitedly, after finding her missing glasses and "noticing" us through the fourth wall.) As she packs up different tchotchkes—pictures of her parents, pictures of her kids, pictures of her with Bill Clinton and Paul McCartney, the Rosebud-like sex manual she once found in her parents' closet—she tells the stories of her life. She ends elegiacally, displaying a photo of her grandchildren ("When I look at them, I know Hitler lost, and I won") and arguing that sex therapy is her own form of tikkun olam, repairing the world ("It is my obligation, because I have survived and one million five hundred thousand children did not").
It's cheesy and clichéd, and it's also sweet. Its target audience—the synagogue sisterhoods of Syosset, the mamalehs of Mamaroneck—will love it.
The young playwright Greg Pierce wrote the excellent Slowgirl, which opened Lincoln Center Theater's new Claire Tow Theater. The veteran composer John Kander has written—well, you know. Together, they've come up with The Landing, which opened at last week at the Vineyard Theatre. They are two talented men; The Landing, despite their talents, and the best efforts of director Walter Bobbie and the effortlessly charming David Hyde Pierce, is a failed show.
It's three one-act miniplays, acted by the same cast of four, that deal with themes of love and loneliness. In the first, and dullest, a precocious and friendless boy (Frankie Seratch) forges a connection with the carpenter working on his family's kitchen (Paul Anthony Stewart), who teaches him about astronomy and, it turns out, is having an affair with his mother (Julia Murney), which the boy, predictably, discovers via his new telescope. In the second, Ms. Murney is again in a dull marriage, this time to Mr. Stewart, and she spends her evenings watching old gangster movies with her visiting nephew, Mr. Seratch. Their lives are shaken up, ultimately not for the better, when Mr. Pierce appears, as—it's complicated, but he's a gangland character in a Guys and Dolls suit. This is the best portion, because the Jazz Age setting allows Mr. Kander to work in his classic brassy style and because Mr. Pierce is such a fine entertainer, whether dancing or scowling or (and this is complicated, too) just sitting on a mantelpiece. (The actor Mr. Pierce is the uncle of the author Mr. Pierce, by the way.)
The third segment, about a pair of gay Manhattanites (Messrs. Pierce and Stewart) who adopt a surprisingly worldly 12-year-old son (Mr. Seratch), has the potential to be most interesting—"I feel like I'm lost and I'm losing the love of my life to my son," Mr. Pierce's character worries, which is a fascinating thought about parenthood. But this vignette is ultimately so odd, and the evening, though only 100 minutes long, by this point feels so endless that it doesn't pay off.