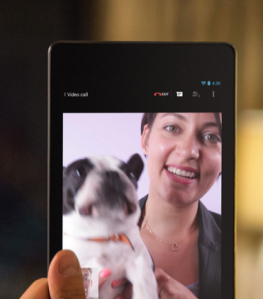 Help is finally here for the victims of Hurricane Sandy: Google is dumping donating 17,000 Nexus 7 tablets to those rebuilding from last year's storm. Governor Andrew Cuomo announced yesterday that $2.7 million worth of devices will be handed out to places, like to libraries and senior centers, in communities that were struck by Sandy.
Since the seven inch tablets are too small to live under, Google said they should be used for e-readers in areas where libraries are still closed, or used for job and skill training by small businesses. High-tech seniors will also be to allowed to borrow them to combat isolation from their families and community centers can download educational software onto them. It looks like shopping One Kings Lane for new bedding is frowned upon.
Gov. Cuomo praised the generosity of the search company for making a "huge difference" to those still rebuilding. "Private donations like these are critical in aiding local communities in our ongoing recovery," he said. Before you ask yourself why Google just didn't write a check, Susan Molinari, the VP for Government Relations at Google explained the health benefits of tablets:
"We believe that technology can and does play a compelling role in rebuilding communities to make them more resilient and stronger. Increasingly, more and more people are using technology and the internet to educate themselves or provide for their families. Our hope is that these tablets will be a resource to do just that."
At least it's not a barge.
(Via The Verge)