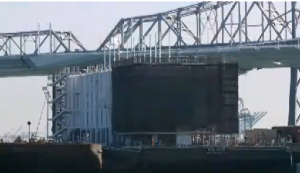 Over the weekend, rumors swirled in San Francisco about a mysterious, Google-owned barge that was creeping around (actual name!) Treasure Island. Speculation as to the nature of the four-story, windowless structure ranged from floating data center to, our guess, a Crossfit studio for Sergey Brin's biceps.
Stop guessing because KPIX-TV has it all figured out: It's a giant store for Google Glass.
According to the CBS affiliate, Google's plan is to tow the structure across the Bay to Fort Mason, where it will swing its doors open to the public so tourists can gawk at the $1,500 face computers.
Not only has the project been steeped in mystery, but construction on the supposed store had to be halted a few weeks ago. A source told KPIX that while Google spent millions of dollars on whatever this thing is, the company didn't secure the necessary permits. That may be because Google didn't want to reveal what the structure would used for, and a body of water can't be used for something that could be built on land, like a store.
The search giant didn't return KPIX's request for comment.
So it's not clear whether the store (if it is a store) will ever open, or whether Google will have to find another place to park its barge. And for all we know, it could still turn out to be a parking garage for a fleet of driverless cars, being positioned to invade San Francisco.