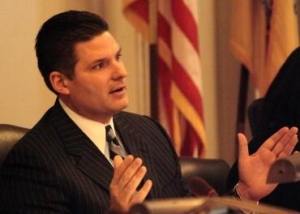 TRENTON – The election is a week away, but in the land of internal Democratic Party politics, a key battle was settled weeks ago.
Assemblyman Lou Greenwald, (D-6), Voorhees, the current and future Majority Leader in the lower chamber, assessed the new-look leadership landscape today and pronounced it sound.
Vincent Prieto, (D-32), Secaucus, who has been heading up the Budget Committee for the last two years, will step up a rung and become Speaker, supplanting Sheila Oliver, after the election dust settles.
And the low-key professionalism that lawmakers, media and the public saw from Prieto in Room 11 of the Statehouse Annex as he jousted with Christie's Cabinet soldiers during budget battles is what they will get when he moves four floors down and crosses buildings to pick up the chamber gavel, according to Greenwald.
"Everyone brings their own style,'' Greenwald said today after unveiling a Sandy 'Good Samaritan' bill to help storm-wracked residents get property inspections accomplished faster.
"It will be similar to what you saw from Vinny when he chaired Budget. That was a smaller stage," but an important one, and it groomed him for the Speakership, according to Greenwald's assessment. He should know: He captained that same committee before Prieto did, and is familiar with how crazy its sessions can become.
"I'm proud of Vinny and his friendship and his loyalty,'' Greenwald said in a post-op of the north-south power sharing realignment that keeps Greenwald in place as Majority Leader.
If Oliver of East Orange was to be removed as Speaker, and Sen. Steve Sweeney of West Deptford was to retain his presidency of the upper chamber, then the new speaker had to have an N.J. Transit depot location north of Trenton.
"This was a team approach,'' Greenwald said. "There were over 40 names on that document,'' he said in reference to the list of 41 Democratic caucus members who publicly endorsed the new leadership team a week ago.
"This brings together Bergen, Hudson, South Jersey, Middlesex is a big component,'' said Greenwald, citing Gary Schaer, of Passaic, who will assume Budget chairmanship, Craig Coughlin of Woodbridge and Joe Egan of New Brunswick, as rising players.
And once the votes are tallied, the first order of business will be lining up lame-duck priorities.
Marriage equality had been Numero One, but when the front office ran up the white flag on that one, its intensity level dropped a bit.
Greenwald said new legislative priorities will be sorted out after Nov. 5.
Between then and now, Greenwald said, he has a full agenda of 11th-hour parachute drops around the state as they attempt to keep the GOP from making good on its boasts of taking enough seats to wrest control from the Dems.
Previous story:
Prieto and Greenwald issue list of 41 Dems supporting new team