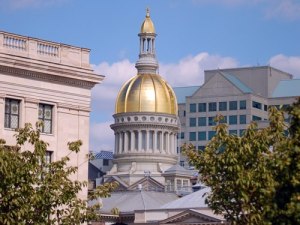 The first of two gubernatorial debates hit the airwaves last night and if you missed it PolitickerNJ has you covered.
Both candidates slugged it out Tuesday evening as Democratic governor hopeful Sen. Barbara Buono had her first primetime exposure in her effort to knock Republican incumbent Gov. Chris Christie out of office.
More than 550,000 people watched or listened to the hour-long debate that can be found in its entirety on CBS New York's website.
But here are some of the highlights:
Christie didn't rule out a run for the White House in 2016 and by some accounts, he may have opened the door to increased speculation by declaring he can "walk and chew gum at the same time."
The debate opened up strong with CBS News 2's Kristine Johnson wasting little time in holding candidates' feet to the fire. She grilled Buono on why she was lagging in the polls in a blue state and pointedly asked Christie whether his no-nonsense persona was "sapping" the dignity of the office.
The debate rules called for the audience at William Paterson University – which totaled nearly 1,000 people – to be quiet during the event. However, there were plenty of opportunities for supporters of one candidate or the other to offer applause, laughs or cheers for either Christie or Buono, including when each candidate was tasked with asking the other a question of their own.
Finally, the real question is whether the event will do anything to make the race for governor more competitive. Currently, a variety of polls have Christie leading by double digits. Will the debate give Buono a boost? At least one political observer in the state predicts that it won't.