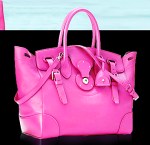 RALPH LAUREN PINK PONY SOFT RICKY
The Pink Pony Ricky Bag is the most recent addition to the collection of Ralph Lauren's iconic accessories. 25% of the purchase price of all Pink Pony products benefits the Pink Pony Fund of the Polo Ralph Lauren Foundation, which supports initiatives for cancer care and prevention.
ralphlauren.com
VINEYARD VINES CHAPPY STRIPE TIE
Preppy clothing line Vineyard Vines is honoring Breast Cancer Awareness by donating 30% of the proceeds from their Think Pink Collection back to the Breast Cancer Alliance.
vineyardvines.com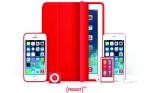 APPLE (PRODUCT) RED
One great color, one great cause. When you buy (PRODUCT)RED merchandise, Apple gives a portion of the purchase price to the Global Fund to fight AIDS in Africa. Since its introduction, (PRODUCT)RED has generated more than $215 million for the Global Fund and more than $65 million from Apple alone.
apple.com/product-red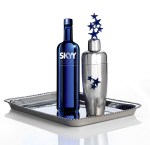 SKYY VODKA "WINTER STAR" COCKTAIL SHAKER BY MICHAEL ARAM
SKYY Vodka, Michael Aram and The Creative Coalition teamed up to create an exclusive, limited edition SKYY Vodka "Winter Star" Cocktail Shaker by Michael Aram. Proceeds from each shaker will benefit The Creative Coalition and their support of First Amendment rights, arts advocacy and public education. Starting October 1st, the exclusive cocktail shaker will be available at the Michael Aram NYC flagship boutique and on www.michaelaram.com.
michaelaram.com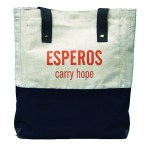 ESPEROS x POP BAGS
ESPEROS is dedicated to providing children in the developing world with access to education. With every bag sold, a child is given a year of education. Together ESPEROS and Pencils of Promise give you the power to change a child's life.
pencilsofpromise-2.myshopify.com/products/esperos
TREATHOUSE
Inspired by a school bake sale fundraiser, Treat House, a gourmet crisped rice emporium, provides a wide range of classic and innovative flavors, including Bubble Gum and Birthday Cake, Caramel Fleur de Sel, Red Velvet, Dark Chocolate Chili and Yuzu Lemon. Limited Holiday flavors include Candy Cane Chocolate Chip, Gingerbread, Sugar Cookie and more. Other offerings include TreatPops, Breakfast Bars, ice cream bars and homemade flavored marshmallows. Ten cents of every treat purchased will be donated to the Food Bank For New York City.
treathouse.com

MICHAEL KORS WATCH HUNGER STOP
Michael Kors, Halle Berry and the United Nations World Food Program have joined forces in the fight against world hunger, creating an exclusive watch for the organization. Each watch provides 100 meals in foreign aid to hungry children.
destinationkors.com/watch-hunger-stop

TORY BURCH SKINNY MULTI-WAY SCARF
Tory Burch has partnered with The Breast Cancer Research Foundation to create an exclusive style to support the cause. The silk twill Skinny Multi-Way Scarf features a bright-pink graphic 'T' pattern on one side and a fun animal print on the other. Versatile and chic, it can be used as a handbag accessory, hair tie, bracelet, ladylike ascot — the options are endless. Tory Burch is donating 20% of this purchase to The Breast Cancer Research Foundation.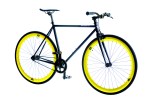 PURE FIX CYCLES
Pure Fix Cycles, a team of fixed gear and single-speed bike builders in LA and Charity: Water have partnered together for a great cause.  $100 from the sale of each Pure Fix Cycle helps fund Charity: Water operating costs.
store.charitywater.org/