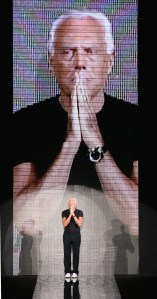 Yesterday afternoon, The Observer recieved a press release that was too good to be true:

MAYOR BLOOMBERG PROCLAIMS THE GIORGIO ARMANI DAY
New York, October 23rd, 2013 – We are pleased to announce that, on the
occasion of the event One Night Only in New York, the city's mayor,
Michael Bloomberg, has officially proclaimed the Giorgio Armani Day,
October 24th, for his longstanding relationship with the city of New
York, for supporting the fund for public schools and contributing to the
economy of the city of New York alongside the great influence made by
Giorgio Armani on the international fashion industry."In such a special day for me, it is a great honor to receive this
recognition, which reaffirms a strong personal and professional bond
with New York, a city that has given me and continues giving me so
much," said Giorgio Armani.
A spokesperson from the Mayor's office, however, confirmed the news: Today is Giorgio Armani Day–coinciding with the designer's first New York sojourn since 2009 for One Night Only (tonight)–but also because he can. Bloomberg had no problem selling off calendar days for good press before (FourSquare Day, anyone?) and now that the countdown clock for his tenure is down in the double digits, why not make every day Some New Product Day?